Chandigarh, November 7: Navjot Singh Sidhu once again on Thursday wrote to the External Affairs Minister seeking permission to visit Kartarpur.
He said that he would go to Pakistan as millions of devotees go on an eligible visa. He said that since he has not got any response from the EAM, in spite of repeated reminders seeking permission, he would go to Kartarpur via Wagah.
The letter Navjot Singh Sidhu wrote on November 7.
Sidhu had on Wednesday also sought permission from the Centre for his clearance to visit Kartarpur. He had said that he would visit Kartarpur via Wagah, if the approval to travel on Pakistan PM Imran Khan's invite to him was not granted.
The MLA is unlikely to hear from the MEA as sources said on November 9, only those people who feature in the previously cleared list of 575 pilgrims will be allowed to cross the corridor to Pakistan.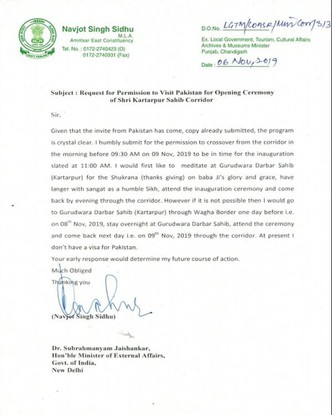 Sidhu has already missed the opportunity to be part of the official jatha. All Punjab MLAs were asked to apply, but Sidhu opted out.