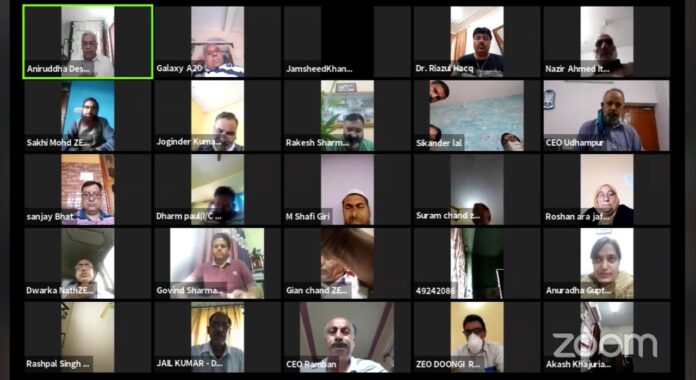 Jammu: In pursuance to the counselling activity calendar of Summer Zone issued by Directorate of School Education Jammu, counselling cells in all the Higher secondary and High schools of Jammu Division organised various counselling sessions for the month of September 2020 on Emotional well-being issues like Psychological impact of COVID-19, coping with pandemic, childhood Psychological disorders, parenting during crisis, Stress management strategies, tips to stay mentally healthy and suicide prevention, using virtual platforms. "The Directorate recognizing the fact that during this covid-19 pandemic time, the students need emotional and moral support, organized various such programmes since the onset of the pandemic and will continue to do so in future as well", Ms. Anuradha Gupta, Director School Education Jammu said.
These online counselling sessions/communications on emotional well-being were conducted by faculty counsellors in High and Higher secondary schools of Jammu Division benefitting approximately 20,000 students. Many faculty counsellors developed IEC material, infographics, PPT and other communication material regarding emotional well-being issues and circulated in the groups. Many students themselves prepared online communication material on emotional well-being under the supervision of faculty counsellors. The counselling sessions were well received by the students. Even the queries raised by the students were also addressed by faculty counsellors and their doubts were cleared.
Mrs. Anuradha Gupta , Director School Education Jammu appreciated the efforts put in by faculty counsellors who under the guidance and supervision of Counselling cell DSEJ are working hard to address the core psychological issues and problems of students and trying to give them mental stability and well-being.
Mr. Romesh Sharma, Head counselling cell DSEJ laid emphasis on the redressal of such burning issues as number of suicidal attempt cases increased during this covid-19 pandemic time. So, students emotional well- being needs to be discussed on different platforms along with them.
District Nodal Officers at DIETs, Members of psychological Task Force comprising, District Counselling coordinators and Zonal Counselling coordinators provided support to the faculty counsellors for conduct of these activities. They were guided about various new programmes of counselling and how to create more awareness about already existing programmes.
Pertinently each govt high and higher secondary school of Jammu Division has a counselling cell.