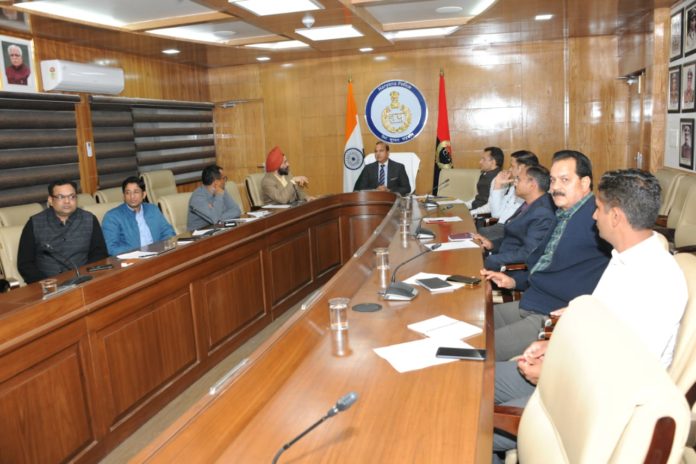 Chandigarh, February 28: Director General of Police, Haryana Mr Manoj Yadava launched 4 State Pragati Dashboard and 2 Verification Services Reports integrated with the Crime and Criminal Tracking Network and Systems (CCTNS) at Police headquarters in Panchkula.
The event was attended by ADGP Admin & IT, Mr Arshinder Singh Chawla, ADGP, Law and Order, Mr Navdeep Singh Virk, DIG, Law and Order, Mr Rakesh Kumar Arya, DIG Admin Mr Satender Kumar Gupta, SP IT Mr Waseem Akram and other police officers.
Addressing the officers, the DGP emphasized the need for introduction and implementation of such kind of e-services to keep track of progress of the cases. This significant move will go a long way in ensuring further improvement in crime analysis and timely verification of citizen services by the police.
Speaking on this occasion, ADGP Admin & IT, Mr Arshinder Singh Chawla, under whose supervision these reports were developed, informed that the move will help senior police officers in the field to review performances of the police stations in their jurisdiction even from their offices. The Range ADGPs/IGPs, DIGs, SPs and DSPs will be able to follow up the progress of investigation of cases through these services. In addition, this will also help in effective and efficient supervision and help in providing the various verification services properly and in the pre-defined time limit as per the Right to Service Act.
The State Pragati Dashboard has been developed on the lines of the National Pragati Dashboard which is being monitored by the Prime Minister of India.
The reports launched by the DGP include Pragati Dashboard – Form 1, IIF Generation Status – Form 3, State Citizen Portal – Form 4, IIFs Submitted to Courts – Form 9, Citizen Service Reports – Service wise and Citizen Service Reports – District wise. These reports provide data of the various IIF and other Police Forms, copies of FIRs available, Status of Verification services etc.
It is worthwhile to mention that Haryana Police had recently taken the first initiative by any department in Haryana to integrate the three most used verification services by the residents, with digital signatures.