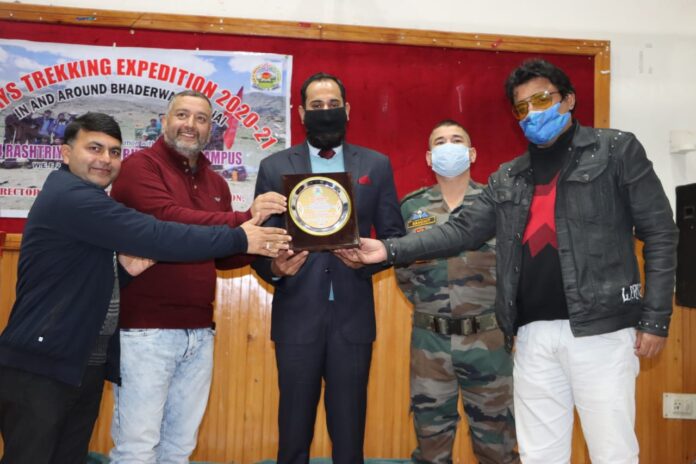 Bhaderwah , November 29 : The ten days long "Hiking & Trekking Expedition" concluded here today. The expedition was organized by the Directorate of Sports and Physical Education, University of Jammu in collaboration with the 4 Rashtriya Rifles (RR)
and Bhaderwah Campus from November 21st to 30th November .
40 students from the University of Jammu, Bhaderwah Campus, GDC
Bhaderwah, GDC Kilotran, GDC Kotranka, GDC Ramnagar, GDC R.S Pura, GDC Thanamandi, GDC Kalakot, GDC Bishnah, GDC Kathua, GDC Reasi & GDC Mishriwala were part of this trekking expedition.
Today a simple but impressive function was held at Lad Ded auditorium
Bhaderwah Campus which was attended by the officials from 4 Rashtryia Rifles, University of Jammu , Bhaderwah Campus besides students of
different affiliated colleges who participated in the expedition .
2IC 4 Rashtriya Rifles was the chief guest of the
valedictory function. Speaking on the occasion 2IC 4 RR hailed the efforts of University of Jammu especially Dr. Daud Iqbal Baba, Director for organising such event in harsh cold weather. "when all the activities are stalled due to the Covid-19, the way these students Trekked difficult tracks like Ashapatti Glashier , Jie Gathie and other tough terrains is very appreciable," Such kinds of events help youths to keep themselves away from anti-social activities like drugs he added
While speaking on the occasion , Dr. Daud Iqbal Baba, Director Directorate of Sports and Physical Education thanked Rashtriya Rifles and Bhaderwah Campus for its collaboration with the said event as a good will gesture. "I on behalf of Vice Chancellor University of Jammu Prof. Manoj K Dhar wants to thank Indian Army (4RR) for its unending support and cooperation in organising this event," It is the beginning of a new chapter of relations between Indian Army and University of Jammu.
Dr Daud Iqbal thanked media fraternity for giving huge media coverage to the expedition. "I am very thankful to media fraternity for their support in making this event successful. It's because of you that today Bhaderwah is being seen a safe destination for trekkers / Winter sports and winter tourism internationally," He also thanked Bhaderwah Campus University of Jammu for providing all the possible help during this ten days long expedition.
Dr Jatinder Manhas Head Computer Sciences Bhaderwah Campus congratulated department of Sports and Physical Education University of Jammu for organising such event. "Bhaderwah Campus will also provide all the assistance for such events in future also.
Tahir Nadeem Khan senior journalist while speaking on the occasion said such events will helps in exploring the unexplored tracks of Bhaderwah. "Bhaderwah known for its natural beauty needs to be explored further, "he added
A colourful cultural bonanza was also presented on the occasion by the
Master Farooq's Cultural group depicting the culture of Bhaderwah and its adjoining area.
The proceedings of the valedictory function was conducted by Arif Haleem Khateeb External Relations Officer Bhaderwah Campus.
The officials present on the occasion were Dr Abid Sarwar, Sh.Ravish Vaid, Sh.Jai Bharat. Arshad Baba , Harvinder Paul Singh , Sanjeev Sharma besides Officials from 4 Rashtriya Rifles.