Jammu 24th Sep 2021 :- Central Working Committee (CWC) Jammu of All J&K Plus Two PSC Lecturer Association led by Manjeet Chib, Convenor, today met with Dr.Jatindra Singh, MoS PMO and apprised him about the demand of assured career progression.
The delegation submitted a memorandum to him seeking his intervention in resolving the long cherished demand of +2 cadre.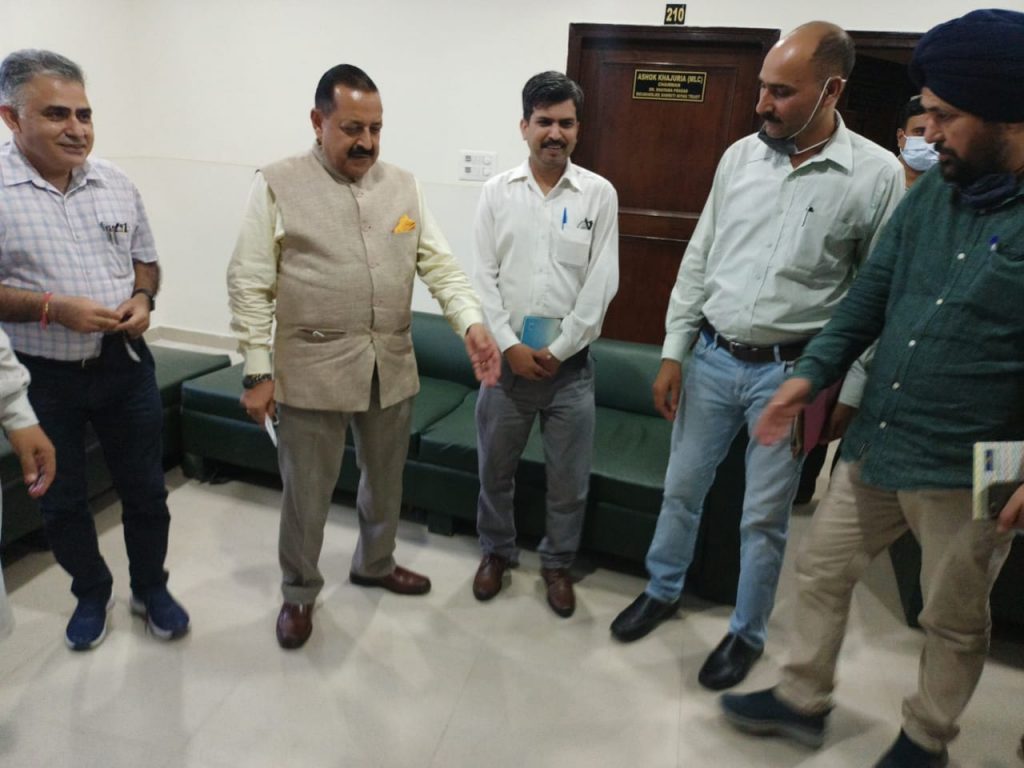 Manjeet Chib told the MOS that +2 cadre is indebted to the central government and particularly to him for taking historical decision of revoking SRO 202.
The delegates highlighted the genuine issue of implementation of Modified Assured Career progression ( ACP ) in favour of plus two lecturers on the same analogy given to other officers of J&K UT.
The delegation informed Dr.Jatindra that +2 lecturers are the worst sufferers due to long stagnation. They said that they are bound to work on the same grade pay for years and if elevated get the mere increase of two hundred only which is sort of exploitation of the nation builders.
The hand out issued here reads that "CWC Jammu has firm belief in the visionary approach and dynamism of MOS Dr.Jatindra Singh who has been very phenomenal in resolving the issue of SRO 202 . The present govt under the dynamic leadership of Sh.Narindra Singh Modi is writing history and has taken landmark decisions in favour of central govt employees. The Shikshak Parve celebration to felicitate the dedication of teachers organized recently is really a great move in this regard but at the same time it is equally important to boost them by providing financial incentives and career progression. The role of making Indian society sustainable and aprogressive knowledge hub as envisaged in NEP 2020 cannot be dreamt without the active involment of +2 lecturers. The dedication, commitment and passion shown by +2 lecturers during covid 19 pandemic is highly appreciable so the provisions of career progression as envisaged in NEP should be implemented in letter and spirit and keeping the lecturers away from its purview is sheer injustice to the community.
The 7th Pay Commission recommendations also speak of three MACP to all employees during service career which has not been implemented so far in J&K UT which is also a sort of demotivation to lecturers community."
The CWC members urge Dr.Jatindra Singh MOS,PMO,s to fulfil long pending demand of Assured Career Progression Scheme in favour of plus two lecturers. Dr.Jatindra gave patient hearing to the delegation and passed on spot instruction to Ashok koul party spokesperson and National Secretary Sh Narinder Singh to take up the matter with LG Sinha and chief secretary as the demand is absolutely genuine and needs to be fulfilled on priority basis. Those who were present in the meeting were Rishi Manhas, Sandeep Sharma,Sanjev Kumar and others.