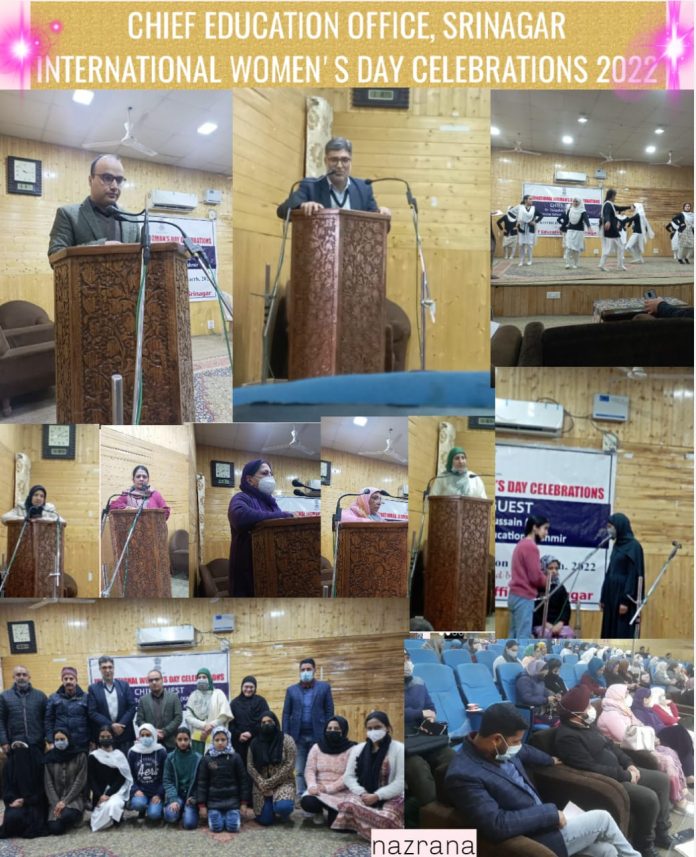 Srinagar: Today on 8th March a Grand Function was Organised by Chief Education Office Srinagar for Celebrating International Women's Day 2022 at GGHSS Kothibagh. Personnel Officer Directorate of School Education Kashmir Dr.Ata Ul Munim Tak JKAS graced the occassion as Chief Guest .
Mr. Manzoor Ahmad Kumar,CEO Srinagar welcomed the guests .In his address CEO Srinagar,wished all females of the Department on International Women's Day and said that Womens have contributed in all the fields especially Education Field.
CEO Srinagar said that this day is meant to uphold feminist values.The Coordinated Culmination of the programme under the enriched guidance of Ms Anjum Raja , Deputy CEO Srinagar was hailed by CEO Srinagar. Personnel Officer ,DSEK
Dr. Ata Ul Munim Tak, JKAS in his address said that females have contributed a lot towards society and steps need to be taken to make our girl child's decision makers.He quoted the example of Mother Terresa.
Mr.Syed Mansoor Qadri, OSD, DSEK also graced the occasion.
On the occasion Ms.Romana Qazi ,Principal MPML Higher Secondary,Ms Afifa Ashai , Principal GGHS Amirakadal and Ms.Nusrat Bukhari, Principal GGHSS Kothibagh expressed their views .
Students of GGHSS Kothibagh presented welcome song,Skit on the theme Gender Equality today for sustainable tommorow and a dance.The performance of the students was highly appreciated by all.
The programme was attended by the Principals,Zonal Education Officers, Headmasters of the District Srinagar.Mr.Nisar Ahmad
Divisional Cultural Coordinator, DSEK ,
MrP .G.Rasool,Dr.Urfana Amin,Mr Nazir Motta,Mr.Bilal from Cultural Education Wing,DSEK were also present.
The Programme was Coordinated by Ms.Hina Amin , District Cultural Coordinator, Srinagar .Ms.Nazrana ,member Cultural Education Wing ,Srinagar hosted the programme.Ms.Firdous Akhter ,DEPO Srinagar presented vote of thanks.