Jammu: As part of a series of events being organised to celebrate Budh Purnima, the Directorate of School Education Jammu today organised an online cultural show focussed on the teachings of Gautam Bhudha and the relevance of his message of love, peace, harmony and universal brotherhood in today's day and age. Students of various government schools from different districts of Jammu division participated in the event presenting cultural items such as songs, hymns, poems etc in the glory of his grace , Mahatma Budha.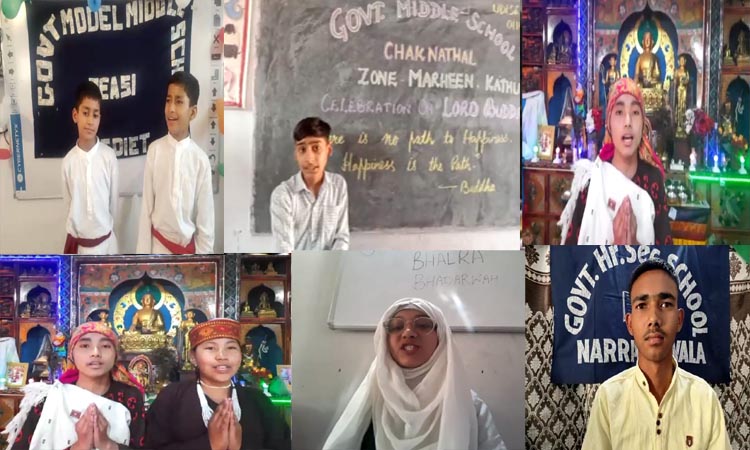 Mr. Hem Raj Pakhroo, Joint Director, Directorate of School Education Jammu was the Chief guest while as Mr Jia Lal GHS Prey Udhampur was the resource person on the occasion which was joined in by thousands of students, their parents, teachers,officers and other stake holders through various official social media platforms of the Directorate. Speaking on the occasion Mr H R Pakhroo, who himself has a tilt towards spirituality, expounded the basic philosophy of Gautam Buddha which later took the shape of Buddhism. He explained the basic principles of Mahatma Buddha's philosophy in a very simple manner so that every student could understand with ease. He advised the students to learn important lessons from the life path of such great men and imbibe their teachings in one's day to day life.
Mr Jia Lal, special guest for the day familiarized the students and other attendants with the teachings of Mahatma Buddha. Touching various aspects of Gautam Bhudha's life and teachings in a very lucid manner , he divulged that such events are organised to acquaint the students with the rich cultural and social  heritage of India, in connecting the past with the present.
From students side, Ms. Mehr Ul Nisa from District Doda, Ms. Anshu and Ms. Sonam from kishtwar District, Master  Vishal and Master Vikas from District Reasi, Master Sumit from Jammu and Master Johny from Kathua enthralled the audience with their presentations which revolved around the teachings and life of Gautam Budha.
It is pertinent to mention here that Directorate of School  Education Jammu  is currently organizing various events such as debates, declarations, talks, speeches , quizzes, poetry recitations,  plays, sports events,  competitions etc. to commemorate the upcoming Budha Purnima and today's cultural programme was a part of that series of events only.
WATCH VIDEO: