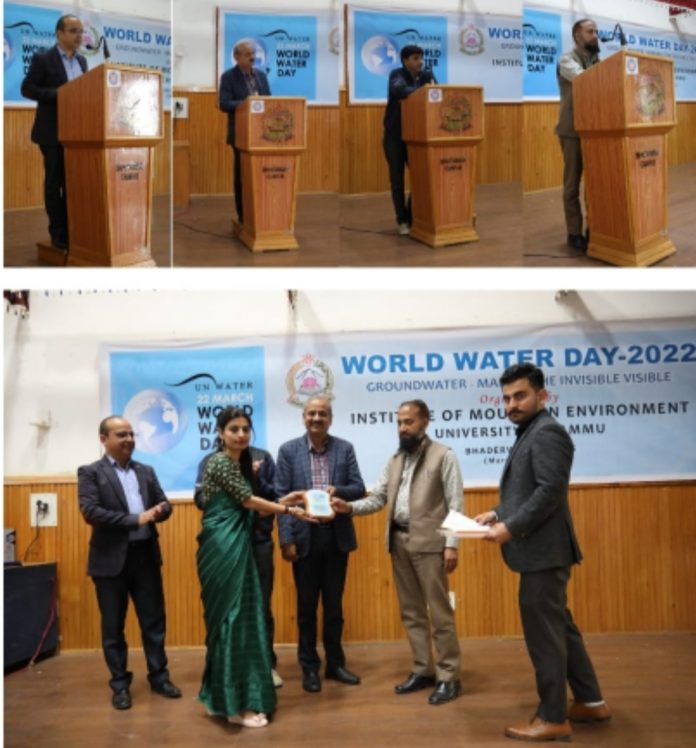 Bhaderwah March 25 : Institute of Mountain Environment, Bhaderwah Campus, observed World Water Day on March 24, 2022, in Bhaderwah Campus. The occasion marked the deliberations on this year's theme 'ground water-making the unseen visible'. While introducing the theme, Dr. Neeraj Sharma, Head IME, underlined the importance of ground water in supporting the earth's life support system. He emphasized the issue and constraints that these groundwater sources face, particularly in hilly areas like Bhaderwah.
In his welcome address, Prof. Rahul Gupta, Rector Bhaderwah Campus and Chairperson WWD -22 emphasized upon the importance of such international days having local relevance.  While referring to the days theme he urged the audience to be cautious in conserving the quality and integrity of these valuable natural resources.
Dr. Ravinder Kumar, the resource person, spoke about the status of surface water quality and its management in Neeru watershed, Bhaderwah, J&K.  He discussed the causes and effects of surface water degradation, as well as the strategies that can be adopted to minimise water quality degradation. Another resource person, Ms Vandana, delivered a comprehensive presentation on the potability of springs and public water distribution sources in Bhaderwah, J&K. She raised the possibility that the spring water, which looks to be safe to drink, may include physical, chemical, and microbiological contaminants that could cause public health problems, which are on the rise in the hilly towns like Bhaderwah. Dr. Neeraj emphasized the importance of undertaking regular monitoring of these water bodies and requested administrative support in implementing the institute's recommendations into action.
On the occasion, Sh. Showkat Matto (JKAS), Tehsildar, Bhaderwah and Guest of Honor, acknowledged the importance of the day and highlighted the problems that springs and surface water sources face in the mountain landscapes of Chenab catchment. He invited the audience to join hands with the local administration in a cleaning campaign to restore the pristine beauty of the Neeru stream and other historically used springs in Bhaderwah.
Sh. Dil Mir (JKAS), Additional Deputy Commissioner Bhaderwah and Chief Guest on the event, spoke eloquently about the connection between springs and mankind, stating that the water existed long before humans. The stress on natural resources such as water is mounting now that humans has dominated the earth. He appreciated the efforts of Institute of Mountain Environment in highlighting such issues of local concern. He proposed that such programmes should also be conducted at the school level to educate students about local issues, their repercussions, and management strategies.
Dr. Shayan Javeed from department of Economics, IME, Bhaderwah presented a formal vote of thanks. The proceedings were conducted by Ms. Asha Sohil.