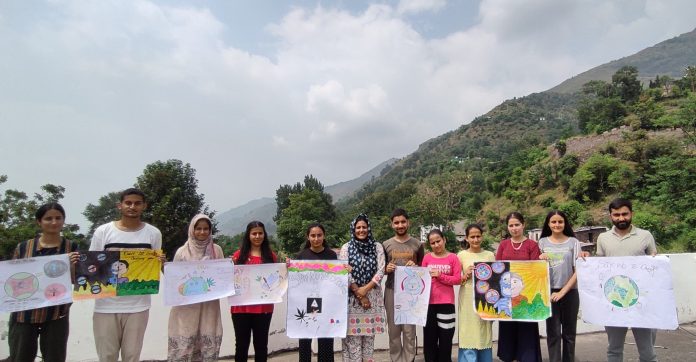 Poonch, September 10 : Poonch Campus University of Jammu, a leading educational institution renowned for its commitment to community development, has successfully organized a powerful and impactful event aimed at addressing the critical issue of drug abuse through art.
The "Painting Event on Drug Menace" held today in the premises of Girls Hostel brought together talented artists, students, to raise awareness and create a united front against the drug menace. Boarders of both Girls and Boys Hostel were part of this painting event.
The drug menace poses a significant threat to communities, affecting individuals, families and society as a whole. Recognizing the urgency of tackling this issue, Poonch Campus embarked on a creative journey to shed light on the consequences of drug abuse.
In his message, Director Poonch Campus Prof. Rakesh Vaid while congratulating the boarders of both Girls and Boys Hostel especially warden Hostel Dr Rubia Bukhari for organizing "Painting Event on Drug Menace, he said drug menace poses a significant threat to communities. "The event provided a platform for Students to channel their creative talents to address the drug menace through various forms of visual art."
He said adding further that Poonch Campus opened its doors to the public, fostering a sense of community and encouraging a collective effort to combat drug abuse.
In past also Poonch Campus collaborated with local organizations, government agencies, and NGOs to ensure a comprehensive approach to address the drug menace.
Dr Rubia Bukhari , the visionary coordinator of the event, expressed her enthusiasm, saying, "Art has a unique ability to transcend boundaries and create a profound impact on society. Through this painting event, we aim to inspire change and raise awareness about the devastating consequences of drug abuse. Together, we can work towards a drug-free and healthier community."
She extends her gratitude to all the Students who made this event a resounding success. "This effort sends a strong message to our community that together, we can make a difference in the fight against the drug menace,' she added.
Poonch Campus is a distinguished educational institution dedicated to promote education, culture, and community development. With a steadfast commitment to holistic growth, Poonch Campus strives to create a positive impact on society through various educational and awareness initiatives.
Boarders who participated in the poster making event on drug menace were Shivali Sonia Proctor's Girls hostel Ajay Sadotra Proctor Boys hostel, Nitish Singh Pangotra, Chail Singh, Jyoti Sharma, Simran Shan, Kajal Bhandari, Shakshi Devi, Bindiya Verma and Shaista Shabir.