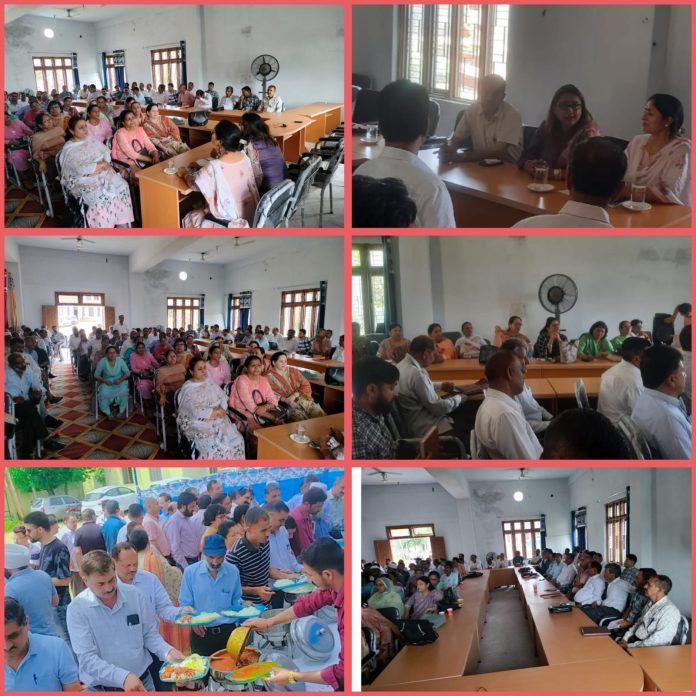 One day orientation was organized by Chief Education Office, Udhampur of all Principals, Zonal Education Officers, Headmasters in two different phases in the conference hall of Chief Education Office, Udhampur. The aim of orientation is to orient all the DDOs regarding different financial Transactional system including JKPays and BEAMS under the supervision of Chief Education Officer, Udhampur Smt. Geetu Bangotra accompanied by DEPO Udhampur Smt. Girija Challu.
While speaking on the occasion Chief Education Officer, Udhampur stressed on the timely utilization of funds released under different object heads and also submit the utilization certificates to the CEO Office in a time bound manner, and do expenditure of grants released for the welfare of the students as per guidelines. DEPO Udhampur aware them about different financial,scholarship  and academic schemes initiated by the govt. including Beti Anmol, Pre-Matric &Post-Matric Scholarship schemes and exhorted them to register all the eligible students under different scholarship schemes and open/activate their bank accounts in the nearest bank branches so that scholarship can be credited to the accounts of students through DBT well in time. While inviting attention of DDOS towards NCORD & ToFEI she also distributed placards of the same to the display them in their school premises.
Resource person Navneet Singh, Sanjeev Sharma, Rakesh Singh DRG, Neeraj Sharma DICC  also spoke on the occasion regarding timely projection of funds under different object heads, Biometric attendance,Toycathon-2023 & enrollment drive  respectively.