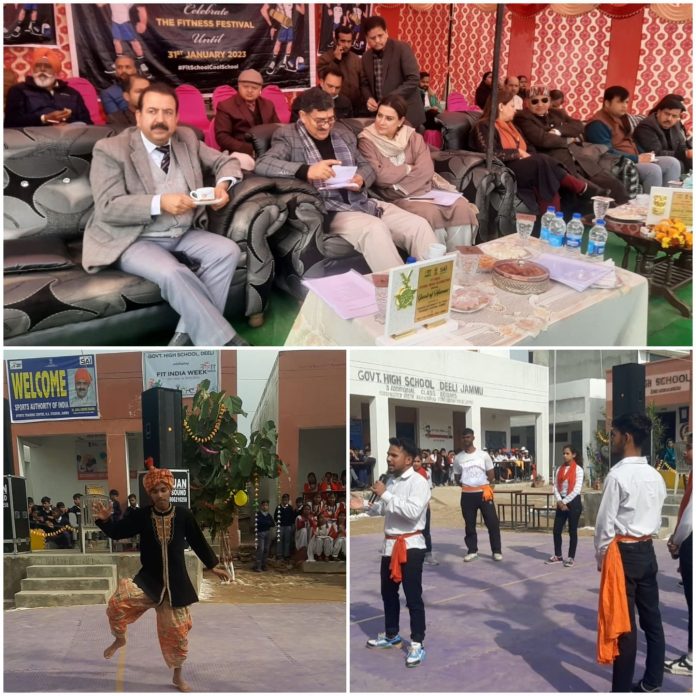 Directorate of School Education Jammu in Collaboration with SAI organized a bouquet of events including yoga session, nukkad natal, song dance events etc. to celebrate the Fit India Week, here today at GHS Deeli, Jammu.
M.P Sh.Jugal Kishore Sharma, Chief Guest on the occasion while addressing the students said that sports not only help in the all round development of mind,body and soul but have become a viable career option as well.NEP recognizing the importance of Sports and allied activities have included sports as part of the curriculum.
Government is committed towards providing quality education to the students as youth is the future of the Nation, he added.
Mr. Jugal Kishore Sharma announced a grant of Rs 5 Lakh for School Infrastructral Development of the school.
Dr.Ravi Shankar Sharma , Director School Education Jammu, Special Guest on the Occasion thanked Mr.Jugal Kishore Sharma, M.P. (Jammu – Poonch constituency) and other dignitaries for sparing their valuable time to celebrate the occassion. He divulged that Fit India Activities are conducted in schools through out the year and it was a matter of pride that Union Territory of J&K is ranked No.1 in the Country when it comes to registration and conducting Fit India Activities in schools. As the philosophy of Fit India Movement enunciates that a Fit Mind requires a Fit Body to reside in, physical fitness becomes a pre-requisite for academic excellance, he added. Such events and activities help in providing the students with a platform to harness and display their skills, he said.
Director School Education Jammu, Dr. Ravi Shankar Sharma inspected the school and while interacting with the staff members advised them to work hard with utmost dedication so as to create a safe and comfortable zone for students where they can evolve and grow to their best possible self.
The events on the occasion coordinated by Mr. Govind Sharma, Divisional Nodal Officer, Fit India Movement, Directorate of School Education Jammu who presented the formal welcome address and highlighted various Fitness activities being organizedin schools. Vote of thanks was delivered by Mr. Parveen Kumar, Headmaster G.H.S DEELI.
Dignitaries present on the occasion included Ms. Nuzhat Gull (Secretary Sports Council J&K Jammu), Mr.Nadeem Dar (Deputy Director Sports (SAI) and Mr.Suraj Singh Rathore (CEO Jammu)