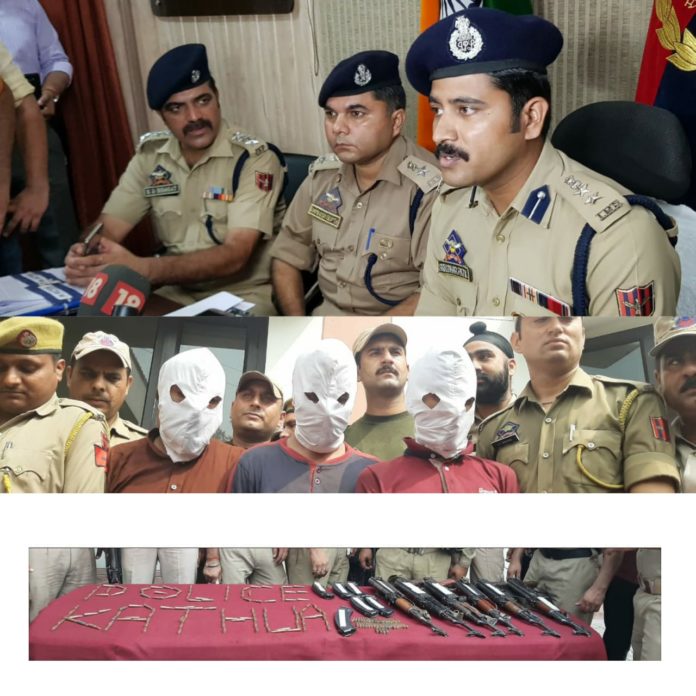 Kathua September 12: In a major breakthrough in anti-terror operation , Kathua Police today apprehended three accused persons and seized consignment of arms and ammunitions, recovered 4 AK-56, 2 AK-47, 6 magazines,180 live rounds alongwith cash of Rs 11000 in their illegal possession.
Based on intelligence , Police Station Lakhanpur intercepted one truck bearing registration no JK13E-2000 coming from Punjab towards Jammu and Kashmir. During checking Police team recovered 4 AK-56, 2 AK-47, 6 magazines,180 live rounds alomgwith cash of Rs 11000 in illegal possession of three accused belonging to proscribed terror organization Jaish-e- Mohammad(JeM).
1) Ubaid-ul-islam S/o Gh. Mohd Shah R/o Aghlar Kandi Rajpora Pulwama,
2) Jahangir Ahmed Parrey S/o Mohd Abdul Parrey R/o Pakherpora Charar Sharief
Budgam
3) Sabeel Ahmed Baba S/o Gh Hassan Baba R/o Aglar Kandi Rajpora Pulwama.
Police arrested all the three accused and seized the consignment. During investigation it was revealed that these terrorists were transporting this arms consignment from Punjab towards Kashmir.
Police Station Lakhanpur registered a case FIR no. 61 /2019 u/s 38/39 ULPA , 120 B RPC , 7/27 Arms Act.
Kathua Police with this recovery unearthed the sinister design of terrorist organisation and their sponsors to disturb peace and harmony in the state. Further investigation is going on.