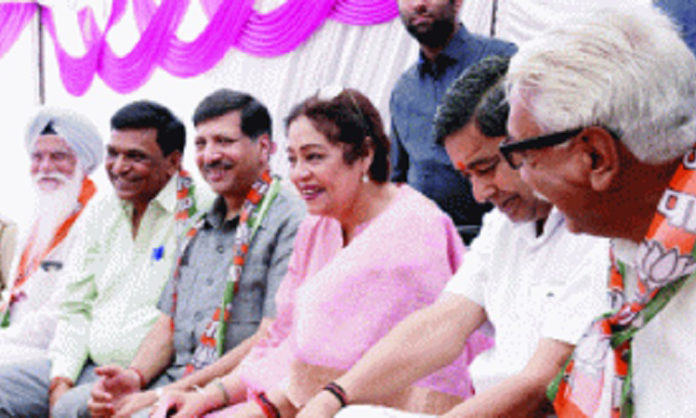 Chandigarh, May 13: MP Kirron Kher alleged that Congress candidate Pawan Bansal played with the sentiments of people in Hallo Majra and ditched them too.
"Bansal issued notification for the regularisation of Deep Complex, but when he assumed the power, he invalidated the notification bringing resentment among the locals," said Kher, while addressing a public meeting at the Jain Market in Hallo Majra.
Kher said every citizen had a dream to own a house. He ditched hundreds of people in the name of house in Hallo Majra where she spent her maximum amount of the MPLAD fund for development.
Kher assured if she regains the seat, this development pace would continue and no delay would mark the initiation of schemes in Hallo Majra.
Councillor Bharat Kumar, who was also present on the occasion, said Bansal's utter negligence over his 15 years of reign has fumed the locals, which would surely mark a massive defeat to him in the upcoming elections.
Later, the Mahila Morcha organised a 'jansabha', which drew a huge gathering in Sector 20.
Kirron Kher, along with former Mayor and councillor Arun Sood, also reviewed arrangements at the rally ground in Sector 34 where Prime Minister Narendra Modi will address a rally in favour of the BJP candidate on Tuesday.
Another 'jansabha', led by local councillor Heera Negi, was organised in the Sector 49 market wherein Kher underlined the development projects that were carried out during her term.