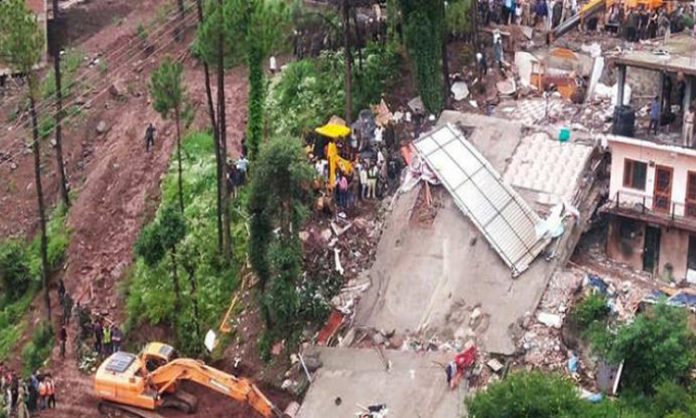 Solan, July 15:At least eight people–seven Army personnel and a woman–died in a building collapse that occurred on Sunday along the Nahan-Kumarhatti road in Himachal Pradesh. Another six Army men are believed to be still trapped inside, officials of the Army said on Monday morning while confirming the death of six of their own.
The incident occurred after a five-storey eatery collapsed on Sunday afternoon following incessant rain. The dead personnel were from the 4th Battalion of the Assam Regiment, who had stopped at the dhaba for a meal.In all, 37 people were believed to have been buried under the debris. As many as 17 Army personnel, besides some civilians, were rescued till Monday morning. Operations are on to save the rest with the help of NDRF teams which arrived from Punjab on Sunday evening.
Chief Minister Jai Ram Thakur arrived at the spot on Monday morning to take stock of the situation.  
The district administration swung into action after local resident Ramesh Chauhan raised the alarm. Chauhan said the wife of the eatery owner, Sahil, was on the top floor when it collapsed. He immediately called Ambulance108 as well as alerted the district administration. Ten rescued people were sent to the Dharampur Community Health Centre.
Employees, including Rajinder Singh, had a miraculous escape. He had just come out after serving guests when the building fell. He said five Army men, who were outside the restaurant, had a narrow escape. The two children of the eatery owner playing outside were unhurt.
The DC, ADM, Additional SP and DSP rushed to the site to monitor relief and rescue operations. The entire highway was cordoned and traffic diverted via Dagshai to ensure a hindrance-free passage for ambulance and rescue vehicles. 
Sources claimed the foundation of the building was weak and incessant rain during the past two days aggravated the problem. Deputy Commissioner KC Chaman, too, said the foundation appeared to be weak.  Army personnel from Dagshai Cantonment rushed to rescue their men. They sought the help of their colleagues stationed at the nearby Kasauli and Subathu cantonments.