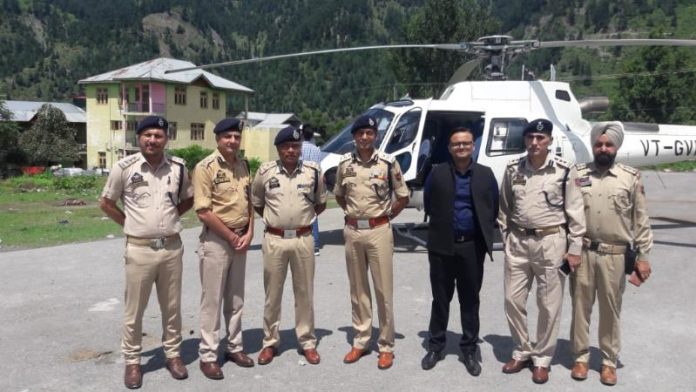 KISHTWAR: Inspector General of Police (IGP) Jammu Zone Mukesh Singh reviewed security and law and order situation in the two mountainous districts of Kishtwar and Doda.
He was accompanied by Bhim Sen Tuti DIG DKR Range, Mumtaz SSP Doda, Harmeet Singh SSP Kishtwar and other Gazetted Officers.
As part of his visit, IGP Jammu went around Kishtwar City to check on ground deployment and urged the officers to maintain strict vigil to foil nefarious plans of anti-national and anti-social elements.
Singh interacted with senior citizens including members of various communities living in the two districts and also met with officers of District Police and Army to take first-hand information update on matters of local security. Additionally, a darbar of officers and jawans was also held in both the districts at District Police Lines.
IGP Jammu deliberated on various issues having bearing on the law and order situation in the region. He heard grievances of the locals and assured them of appropriate resolution. He further directed the district administration to take immediate steps to help citizens.
As part of the meeting, he asked citizens to assist the police in curbing crime incidents in the city and notify events of drug abuse and other social evils prevailing in the society.
He emphasized on the need for Police-Public Partnership Groups to strengthen state-wide security measures and ensure overall peace and harmony.