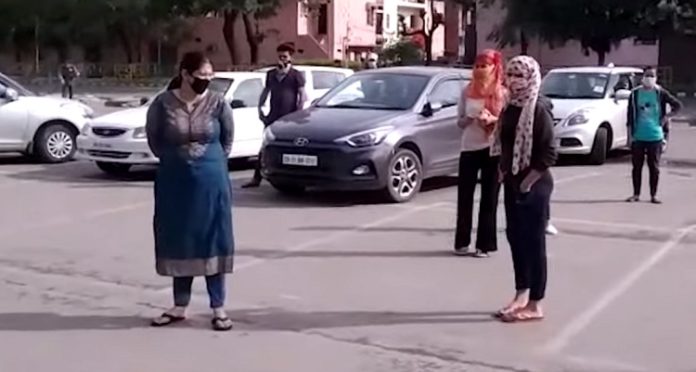 Chandigarh, March 25: People violated the 21-day nationwide lockdown in several parts of Punjab on Wednesday and thronged the markets to purchase essential items.
India on Tuesday had declared a lockdown as a major enforcement exercise to make people stay at home and prevent the rapid spread of coronavirus as the country enters a decisive stage to combat the global pandemic.
In Ludhiana, a large gathering was witnessed at the vegetable market near the Jalandhar bypass. Several parts of the city were flooded with people and many markets remained open.
Despite this, people in various parts of Ludhiana suffered as essential commodities were yet to be delivered at their doorsteps during the curfew. They complained that they are not getting vegetables, milk and other required grocery items.
On March 24, District Magistrate-cum-Deputy Commissioner Pradeep Kumar Agrawal had said that the home delivery of essential commodities such as milk, vegetables, ration, medicines, green fodder for animals and LPG would be done. He requested the public to remain in their homes and not allowed to come out during curfew due to COVID – 19 threat.
Several people came out of their houses to buy necessary ration, vegetables, and milk in various areas on Wednesday morning but some were forced to return homes without getting required grocery items due to curfew.
Opinder Sharma of Punjab Mata Nagar Ludhiana said, "We had got information yesterday that the relaxation will be granted from 6 am to 9 am on Wednesday but there was no relaxation today. There is no supply of milk by the agency concerned. All important announcements must be made in advance to avoid any confusion. The government should give relaxation for a few hours during day time", he said.
A senior doctor in Ludhiana said, "The grocery stores were not opened in our area. However, there is no service available for home delivery of grocery items. Even a person who supplies milk packets to us was stopped by police mid-way."
The residents of Civil Lines and other areas faced a similar experience. In outer ward areas on Tajpur Road, Tibba Road, Dhandari Khurd, Giaspura and several others, a large number of labourers and daily wagers reside. The members of Karhana Mazdoor Union said that the required supply of ration should be ensured to these people at the earliest.
The vegetable market in Bathinda was also open and has had a large number of visitors since morning.
In Chandigarh, in the absence of door-to-door supply of milk, people queued up in front of Verka booths, in a direct violation of the curfew orders.
While medicine shop and grocery shops remained open in Mohali, people exercised social distancing while standing in a queue.
Supply of milk and newspapers remained disrupted across the region.