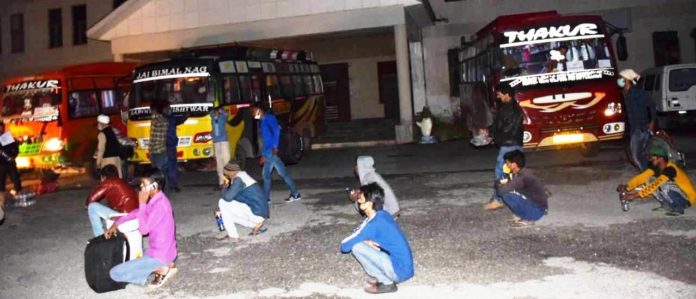 Kishtwar administration dispatches 53 interstate migrants to their native state
KISHTWAR, MAY, 28: Continuing its efforts to facilitate the stranded labourers in their interstate movement from Kishtwar to Uttar Pradesh, District administration Kishtwar under the overall supervision of District Magistrate, Kishtwar Rajinder Singh Tara today dispatched a batch of 53 stranded migrants of Uttar Pradesh to their home state.
A fleet of 3 buses carrying these migrant labourers of UP who were stranded at Kishtwar during unprecedented lockdown were dispatched to the Katra railway station today morning at about 4:30 am from the dispatch point DC office Complex Kishtwar. Katra onward they have to complete their journey to their native state Uttar Pradesh through special trains scheduled on the same day from Katra railway station.
Special liaison officers/officials were deployed with these buses to facilitate and look after the needs of the passengers during the transit and to ensure their smooth journey.
Besides, for proper and smooth travel of these outbound passenger packed food packets, water bottles and masks were also provided to them at the time of boarding.
District administration has already sent a major chunk of interstate labourers which includes 47 interstate labourers hailing from Bihar and 59 migrant labourers of Chhattisgarh.
Rest of labourers belonging to West Bengal, Uttrakhand , Madhya Pradesh, Punjab etc will be transported to their native states in the coming days with an aim to mitigate their sufferings said Assistant Labour Commissioner Kishtwar Anoop Kumar who is facilitating the complete process from registration, medical screening to dispatching of these migrant labourers.
Furthermore, specially care for the maintenance of the COVID-19 protocol like social distance and use of mask during the travel has been ensured by liaison officials deployed in each vehicle during the travel.
The team of 4 officials headed by NT ARA, Sher Singh has been deployed with these vehicles that will ensure the proper dropping of these passengers at Katra Railway Station and further will ensure their boarding in the respective trains.