Jammu: In order to address the difficulties faced by the students of UT of J&K related to PMSSS, Directorate of School Education Jammu organised an online interactive session in  which detailed information about PMSSS(20-21) was given to the senior secondary students, parents, Nodal Officers PMSSS, HOIs of Higher secondary schools and other participants. Director School Education Jammu Ms. Anuradha Gupta was the chief guest on the occasion while as Prof.(Dr.) Ajeet Angral  Consultant(PMSSS)UT of J&K and UT of Ladakh AICTE, New Delhi was the key speaker. Mr. Romesh Kumar Sharma, Head Counselling cell, DSEJ, moderated  the session.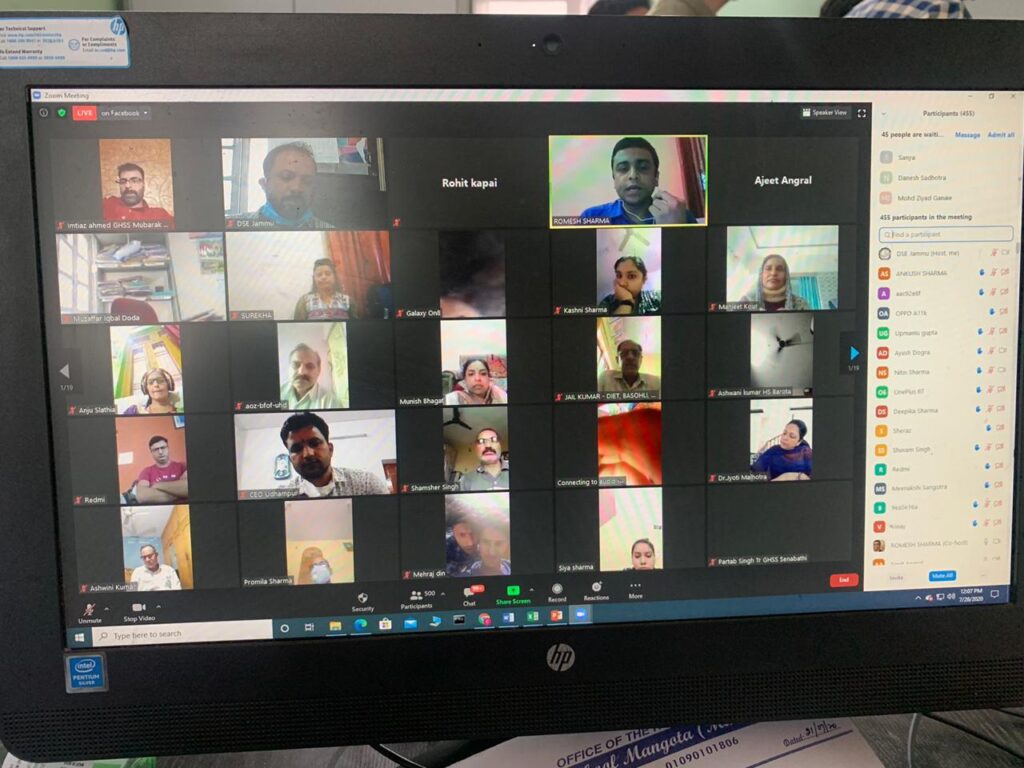 The webinar got an overwhelming response and approximately 3000 participants i.e students, teachers, parents etc. from all the ten districts of Jammu Division joined the session and got their questions answered.
Prof. Ajeet Angral informed the participants about various pre-requisites neccessary for filling the forms while addressing the issue of eligibility criteria needed to apply for this scheme which included different courses/ streams a students can apply in. He also highlighted the aspect of financial help that the eligible students can get in the shape of academic fee and hostel fee. He said that students are required to visit nearest Facilitation Centre only for registration which started on 6th of July,2020 and it will continue upto 31st of July,2020 whereas documents are being verified at nearest verification centre. List of Facilitation/ Verification Centres is available on AICTE Website.
Ms. Anuradha Gupta, Director School Education Jammu, under whose patronage counselling cell organised this online interactive session apprised the participants about the various Facilitation Centres available in Higher Secondary Schools of Jammu Division having ICT Lab Facility. She also asked the Counselling Cell DSEJ to ensure smooth handling of psychological issues being faced by students through its Team of PTF and Teacher counsellors.
After the informative session, there was Q&Asession in which Prof. Ajeet Angral addressed various queries that were raised by the participants especially the students and these queries were mainly about Domicile Certificate, admission procedure, problem of registration due to low network etc.
Mr. Romesh Kumar Sharma, was the moderator of the webinar while
Team Counselling cell viz. Alka Sharma, Shanti Saroop Sharma and Shveta Sharma helped in the proper and smooth conduct of the webinar. Sohail Wani, member IT, JKKN provided technical support.