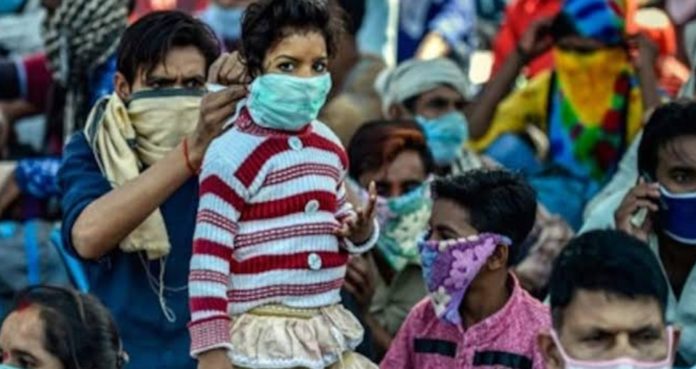 Kishtwar Administration reaches out to stranded Kishtwar residents in Himachal Pradesh
Ensures home delivery of essentials to them
KISHTWAR MARCH 29: District Magistrate Kishtwar Rajinder Singh Tara today talked to the DMs of Kinnaur and Shimla to ensure basic facilities like food, shelter and medical facilities to the 28 stranded residents of Patnazi Bonjwah of District Kishtwar at Kinnaur and Shimla Districts of Himachal Pardesh.
DM informed that as many as 28 contractors, labourers and residents of Bounjwah are stranded at different locations in Himachal Pradesh which included 19 stranded at Main Bus stand Rekong Pio Distt Kinnour, 04 at Suru Rampur Shimla and 05 at Barty Suni Shimla.
DM also shared the list, contact numbers and locations of these stranded residents to ensure home delivery of ration and other essential commodities and services to them.
He also nominated ACR Kishtwar Dr Amir Hussain as nodal officer who shall facilitate and coordinate the various facilities to be provided to the stranded residents of Kishtwar at different regions of country and asked him to submit the report on daily basis.
Meanwhile, DM assured the people of Kishtwar that District administration is committed to reach out to all such stranded residents of district who have been stuck at other places within the UT or at other places of the country and will facilitate their comfortable stay there during this local down period.
He further requested the people of Kishtwar to bring such stranded residents to the notice of District administration by contacting at 24×7 district control room on the telephone no 01995-259-555 so that the problems of residents who have been struck outside of the district could be mitigated at the earliest to the best of their expectations.
Doda Administration reaches out to stranded Doda residents in Sikkim
DODA, MARCH 29: In order to ensure Food and other basic facilities for 12 stranded labourers at Namchi-Sikkim during the ongoing country wide lock down amid Coronavirus threat, District Administration has quickly took up the matter with the ADM -South Sikkim who assured to take care off all the stranded labourers of district Doda at Namchi-Sikkim.
The matter has came up before the District Development Commissioner Doda Dr Sagar D Doifode who without any delay took up the matter with the concerned authorities there for its timely solution.
Besides, the district administration urged the stranded people to remain indoor during the lockdown period.
Moreover, DDC said that district Administration has requested to people to inform all such cases who are stranded outside the UT at 24×7 District control room numbers which are 18001807122, 9906320997, 01996233337.
No. PR/DDI/J/19/1287//