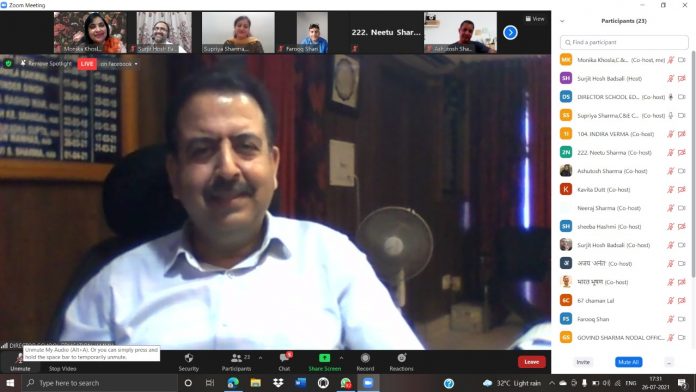 Jammu: The one of its kind, Second Fifteen day long online literary workshop- organized by Directorate of School Education Jammu, to improve the writing skills of students, teachers, Masters and Lecturers in Hindi, Dogri, Urdu and Gojri languages reached its culmination today with a webinar marking the concluding ceremony.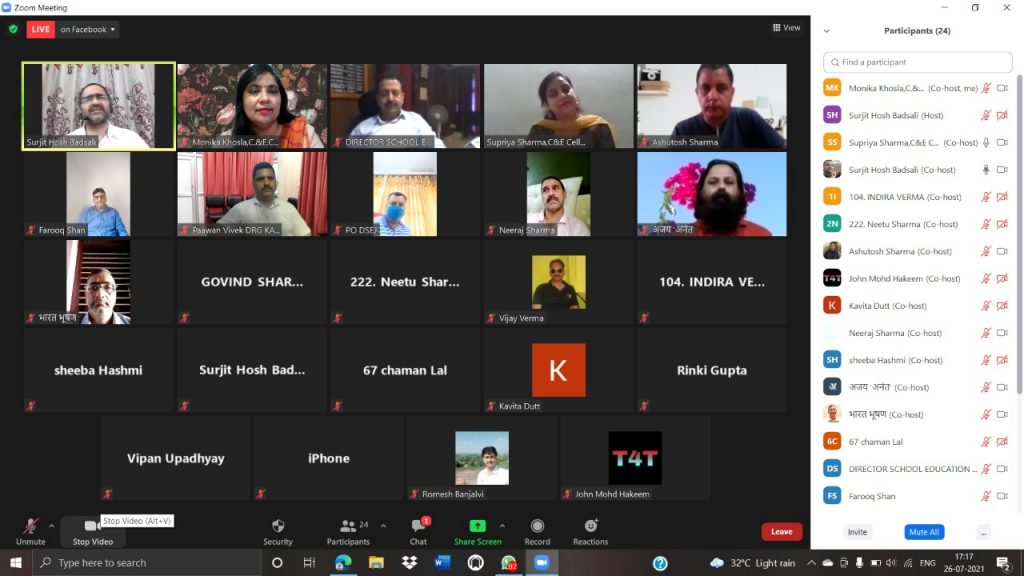 Participants of this workshop learnt techniques of Literary Generes,viz.Chhand ,behar,Doha,Chaupai,Gazal, Memoirs,Stories, Travellogue etc.
Director of School Education Jammu, Dr.Ravi Shankar Sharma, was the chief guest on the occasion.
Speaking on the occasion, he said that literature is the soul of society. It gives direction to our lives.He also expressed his sense of contentment over this successfully completed literary workshop and talented literary gems of Education Department which popped out through this workshop.
He hoped that this training should be visible in the classrooms of these teachers and all the students should get the benefit of it. He also assured to continue these type of workshops in small segments in future too.
Workshop Co-ordinator and Incharge,Cultural and Education Cell DSEJ,Shri Surjeet Singh, said that this workshop was organised for the second time by the Directorate of School Education Jammu and divulged that many other states have contacted the Directorate Cultural Cell with a desire to hold similar workshops in their respective states as well.He also stated that these type of workshops will be helpful in teaching and learning languages in the classrooms too.
Some selected participants also gave their feedback for this workshop.
The Resource Persons include:-Sh.Surjit Hosh Badsali,Sh.Bharat Bhushan,Janab Jan Mohd Hakim,Janab Anwar Khan ,Sh.Babu Bhatti,Sh.Romesh Singh,Smt Veena Devi,Chaman Lal,Dr.Kuldeep Dogra,Dr.Jia Lal,Smt.Keerti Thakur,Sh.Ajay Anant,Sh.Vipan Upadhyay,Smt Kavita Dutt,Smt. Rinki Mahajan,Smt Anuradha Sharma,Sh.Ranjay Kumar,–All of these laboured hard to train the participants.
The webinar was coordinated by Smt.Supriya Sharma ,Team Member of Cultural and Education Cell DSEJ, while the formal Vote of Thanks was presented by Smt.Monika Khosla, Team Member Cultural and Education Cell DSEJ.Sh. Ashutosh Sharma,Team Member Cultural and Education Cell DSEJ , provided the technical assistance for the event.