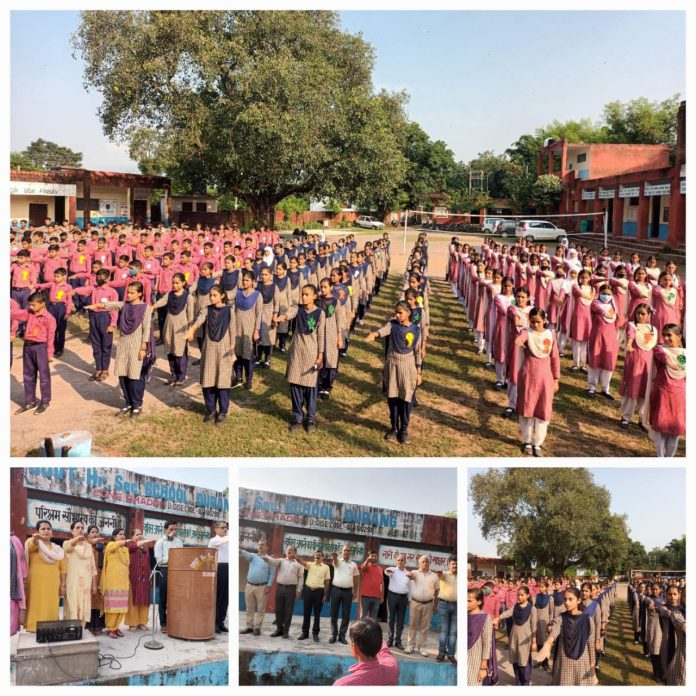 'Swachhta Pakhwada' concludes with full gaiety with prize distribution ceremony in district Kathua
Kathua, 15th september: Activities under flagship programme 'Swachhta Pakhwada' started on 1st September 2022 as per the instructions of Cultural and Educational Cell of Directorate of School Education, Jammu and ended today on 15th September 2022.
The District Unit of Cultural and Educational Cell , which is running under the aegis of Chief Education Officer Kathua Shri Prakash Lal Thapa and was supervised by the District Incharge (DICC) Mrs. Monika Khosla, who was also the District Nodal Officer for this campaign. All the twelve Zonal Incharges (ZICCs) with the active support of their respective ZEOs in the district successfully completed this campaign.
Various activities were performed during ethis campaign, which lasted for 15 days.
"Swachhta Pakhwada" started with "Cleanliness Pledge" and teachers and students in schools took a pledge to keep their courtyard, society, environment etc. clean.
The second day's activity was named as "Swachhta Awareness Day" and the students were made aware about health and cleanliness. In this, the activity of water conservation in the environment was given an important place. On the third and fourth day, rallies were taken out, in which apart from the schools, the local people also participated enthusiastically.
The fifth day was dedicated to "Grow Greenery". Plantation was done at different places. Slogan writing, painting competition, poster making competition were organized in schools keeping this objective in the center. Along with this, the message of ending the use of plastic was also given through these mediums.
The sixth and seventh day of the fortnight was dedicated to "Partnership in cleanliness" and activities like poetry recitation, short plays, painting competitions, essay writing etc. were organized on this occasion. In this the winners from school level to district level were also declared.
Day 8 and 9 were focused on proper hand washing. Teachers in schools told how to wash hands very effectively so that all germs are eliminated, it was explained in a practical manner . The tenth and eleventh days were kept for personal hygiene and health. Students were made aware on physical hygiene through movies and radio programs in schools. Activities were also done on prevention of epidemic like corona. The twelfth day was given to the fortnight's exhibition. In the last few days, all the work done by the students regarding cleanliness was displayed, in which local artwork was also given a special place. The students presented many fascinating works of art from the waste materials. The thirteenth and fourteenth days were of "Swachhta Action Plan" and future plans were made for each type of cleanliness in collaboration with the Management Committee of the Schools and the School Development Management Committee. In addition, the suggestions of the committee members were also taken.
Anita Pangotra, a cultural ambassador and master in the district, when asked, she told that the children participated with great enthusiasm in this program, but they used to ask daily questions about the next day's activity.
Prize distribution ceremony was held on the last day of the fortnight i.e. 15th September. The students who had performed best in various competitions and activities were honored by the principals and head teachers of the school.
Outstanding works in this category were also declared winners at the district level. In which Prachi Saini (Spring Dales English School, Changran) Zone Kathua got first, Lakshita Devi (Higher Secondary School, Sallan) Zone Sallan second and Priyanka (Higher Secondary School, Gura Kalyal) Zone Bhaddu got third place in painting competition.
In the Essay writing competition, Megha Devi (High School, Hiranagar) Zone Hiranagar got first, Himani Sharma (Higher Secondary School, Mara Patti) Zone Mahanpur got second and Tarun Sharma (Government Model Higher Secondary School, Hiranagar) Zone Hiranagar got the third position. .
"Swachhta Pakhwada" was started with the same enthusiasm and purpose, it also ended with the same enthusiasm and many types of messages were sent to the students and society through this campaign.
The Chief Education Officer of Kathua, Hon'ble P.L. Thapa ji also described this cleanliness fortnight as a very remarkable initiative and appreciated everyone's participation on how important role cleanliness plays in human life and also congratulated the teachers. He expressed hope that the way our DICC, ZICC, and teachers of Kathua are working, we can see the results of it in the form of a bright future.Deputy Chief Education Officer Shri Chaman Lal Ji and District Education Planning Officer Shri Kewal Krishna ji also expressed happiness over the successful completion of this campaign.
Overall "Swachhta Pakhwada" was very successful and positive from every point of view.