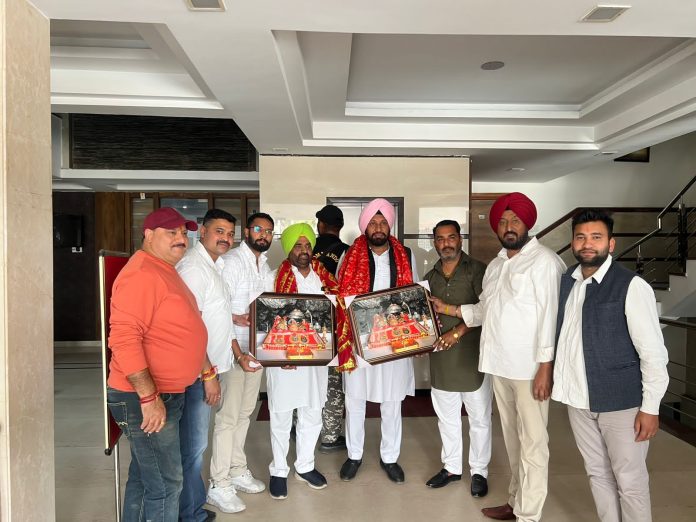 AAP supports demands of Katra agitation: Punjab AAP MLA Balkar
Work unitedly to decimate unjust, authoritarian BJP's rule
Gaurav, Tony for involving Holy Town's residents in decision making
KATRA: Balkar Singh, MLA Kartarpur and Prabhari Jammu AAP along with Chairman Aam Aadmi Party (AAP) Jammu and Kashmir for Administrative Engagement and Minority Affairs, and District Development Council (DDC) Member Suchetgarh, Taranjit Singh Tony visited Katra and extended wholehearted support to people of the holy town holding agitation against the proposal of government for making a ropeway.
It is pertinent to mention that Balkar Singh is on two days visit to Jammu and Reasi districts and is holding meetings with deputations of different wings of the party belonging to Jammu Province.
The visiting AAP leader from Punjab visited Katra along with Tony and met senior leader and Sarpanch Sonu Thakur of Katra, Mata Vaishno Devi Constituency. Gaurav Sharma, National Joint Secretary (Org. Building), Aam Aadmi Party and Prabhari Jammu was also accompanied the senior AAP leaders.
Balkar after getting the firsthand information about the ongoing agitation by the locals against the installation of a ropeway in Katra said that the government should first listen to the people and then go for the ropeway.
Tony who was also present urged the LG Manoj Sinha to take the people of holy town into confidence before finalizing big projects like the aforesaid one which has invoked large spread opposition.
Later, Balkar appealed to the party workers to strengthen the party at grass roots level and disseminate information among the masses about AAP's good governance model of Delhi and Punjab, and people friendly initiatives of AAP Governments. He also asked the party cadre to activate various wings of the party in each district of Jammu Province.
Balkar Singh batted for working unitedly to decimate the unjust and authoritarian BJP rule in the country as the same has brought only misery for the people with record breaking inflation, unemployment, lawlessness and directionless policies. Warning the government not to go against the wishes of people of Katra, he extended full support to the agitating population of the region, which is opposing the decision of bringing ropeway in the region as the same will give a jolt and setback to the poor labourers. He said that if the government will not budge, AAP will come on roads in support of the people of Katra.
Tony, while asking the administration to listen to the plight of people, said that over 30 thousand people would get affected by the government's move, which is unwise and untimely.
Later, Sonu felicitated Balkar Singh, Tony, Malvinder Singh Lucky, youth leader from Punjab, Shishobit Veer Singh and DC Raja. Mandeep Choudhary and Ghar Singh also accompanied Balkar Singh.