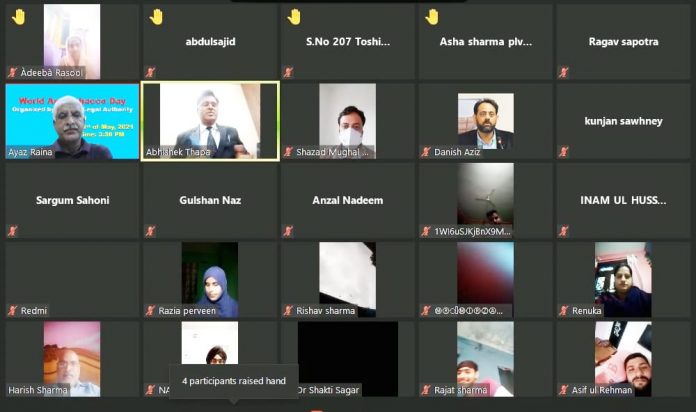 Today on 31st of May, 2021 District Legal Services Authotity, Rajouri in collaboration with Chief Education Officer, Rajouri organised World Anti Tobacco Day in virtual mode.
Tobacco consumption is the second major cause of death in the world. The purpose of celebrating this event is to
highlight the risk associated with the use of tobacco and also to raise awareness among the public to help reduce tobacco use and protect the health of the people.

Students & staff of around 80 schools across the District participtated in the event virtually. On the occassion Mr. Surender Thapa Secretary Sub Judge District Legal Services Authority, Rajouri was the chief guest while Mr. Danish Aziz educationist & expert from UNICEF was the guest of honour.
Six students from different schools threw light on the importance of celebrating this day. Those who spoke include Miss Adeeba Rasool (Girls HSS Thannamandi ), Mr. Mohd Tariq (Boys Model HSS Thannamandi), Miss Sumera Pervaiz (Girls HSS Rajouri), Miss Razia Parveen (HSS Behrote), Miss Suhani Gupta (Girls HSS Nowshera), Mr. Navjot Singh (Boys HSS Nowshera).
Mr. Ayaz Raina moderated the whole programme & also spoke at length on the consequences of tobacco consumption among the public and methods of its cessation.
Mr. Danish Aziz while interacting with students said smoking any kind of tobacco product reduces lung capacity and increases the severity of respiratory diseases.
Chief guet Mr. Surender Thapa in his address discussed in detail the status of danger of tobacco consumption in world, the business practices of tobacco companies, and what WHO is doing to fight the tobacco epidemic, and what people around the world can do to claim their right to health and healthy living and to protect future generations.
In the end Mr. Shazad Mughal thanked all the participants.