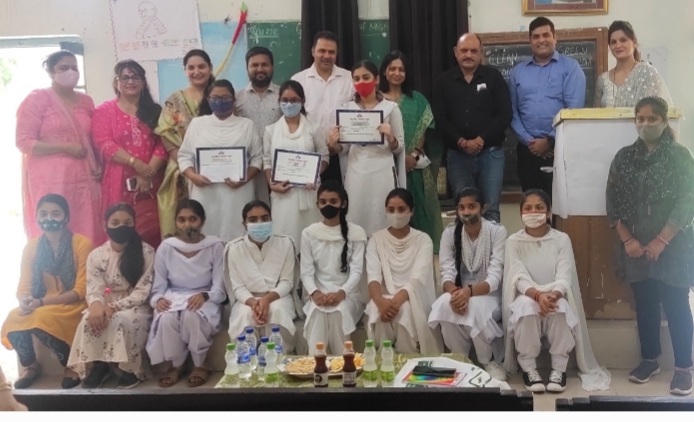 Jammu: A first of its kind awareness workshop for students and staff memebers was organized by the Directorate of School Education Jammu under the able guidance of Dr. Ravi Shankar Sharma, in collaboration with the Bureau of Indian Standards (BIS) J&K Branch Office Jammu at GGHSS Bakshi Nagar, Jammu, here today.
The Bureau of Indian Standards J&K Branch Office, Jammu in collaboration with the Directorate of School Education Jammu has initiated a pilot study of introducing Standard Clubs in Govt. schools of Jammu division in order to spread awareness among masses/ customers through Educational Institutions considering them as major source of imparting and circulating knowledge and information.
The main aim of this event was to commemorate the forthcoming World Standards Day on 14th Oct. 2021 with the theme " Shared Vision for a better World."
The inaugural conclave was initiated by Ms. Shveta Sharma, Coordination Cell DSEJ, followed by formal welcome address by Sh. Subhash Gupta, Principal GGHSS Bakshi Nagar to the Chief Guests of the event, Sh. HR Pakhroo, Joint Director, Directorate of School Education Jammu, Ms. Nisha Bura, Scientist- D, Joint Director, BIS, JKBO, J&K and Mr. Ashish Dwivedi, Standard Promotion Officer, BIS, JKBO, J&K.
Speaking on the occasion, Sh. HR Pakhroo, stated that the development of a nation is dependent on education as education is an important tool for national character building. He also stressed that it was important for both the organizations to work together and harness the skills to make education more relevant in present times.
Ms. Nisha Bura chaired a power point presentation on history and present activities being undertaken by Bureau of Indian Standards and the goals to be achieved followed by an open discussion in which different participants interacted with one another.
Meanwhile, different competitions among students of Standard Clubs were organised in the school premises like Essay writing, Slogan Writing and Poster Making, which were evaluated by jury members and awarded the winning students with certificates and cash prizes.
Dr. S P Pourush Shrikhandia, Coordination Cell Directorate of School EducationJammu, presented the formal vote of thanks to all the dignitaries present in the workshop. He also thanked the staff members of GGHSS Bakshi Nagar, students, participants and team members Coordination Cell DSEJ for their valuable technical help and overwhelming support to make the event a success.