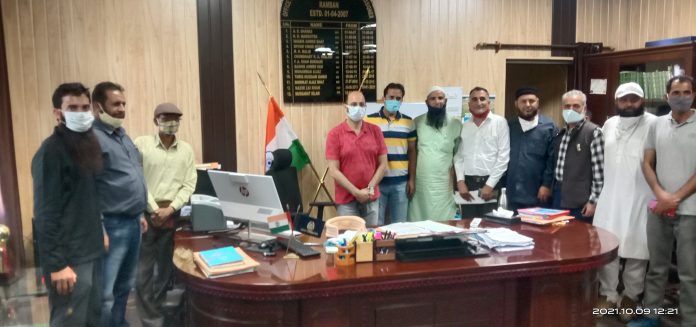 Ramban 9th Oct 2021:- A high level delegation of Pogali Bazam e Adab led by its chairman M A katoch meets DC Ramban Masratul islam .The delegation was accompanied by BDC chairman Karleep Singh Bali.The delegation submitted charter of demands and sought intervention of DC Ramban for favourable recommendations regarding promotion,preservation & development of Pogali language. The demands include legalization of the dialects to pave way for 4% quota reservation in the recruitment policy.
Creation of separate section,publication of text books under JKBOSE from 1st pry to 5th pry in the local dialects, establishment of pahari hostel.Opening of sub office of J&K Cultural Academy of Art,Culture and Languages.Beside, a momorandaum from pahari core committe of Erest while Distt Doda ( Chenab velly) viz Doda kishtwar & Ramban was submitted through Gen _Secretary Pahari core committe Ashraf katoch & Chief Spokesperson Pahari core committe M.A Katoch for promotion development & Enrichment of pahari speaking dialects viz, Pogali, Padri ,Bhalessi, Bhaderwahi & Serazi & their inclusion under certain provisions.M A Katoch urged DC Ramban to recommend separate sections for the local dialects and these dialects be promited as per the guidelines laid down in NEP 2020.He appealed DC Ramban to ask the cultural cell established at CEO,s office Ramban to organize activities for the promotion of Pogali dialect and its unique culture.
Those who were part of the delegation include Social Activist Farooq Ahmed Katoch R.O Cheneni,Haroon Rashid Katoch R/O Ramban,Arshid Jahingeer media Secretary ,Muzaffar katoch Coordinator,Shuaib Ismaiel IT cell incharge ,Sanaullah Naik Paristani ,Ab Hameed Paristani,Tanveer Ah Katoch paristanin,JUGESH Thakur, Mujeeb ul Rehman,Alanbassi, Nawaz Katoch,Adocate Mushtaq legal advisor.