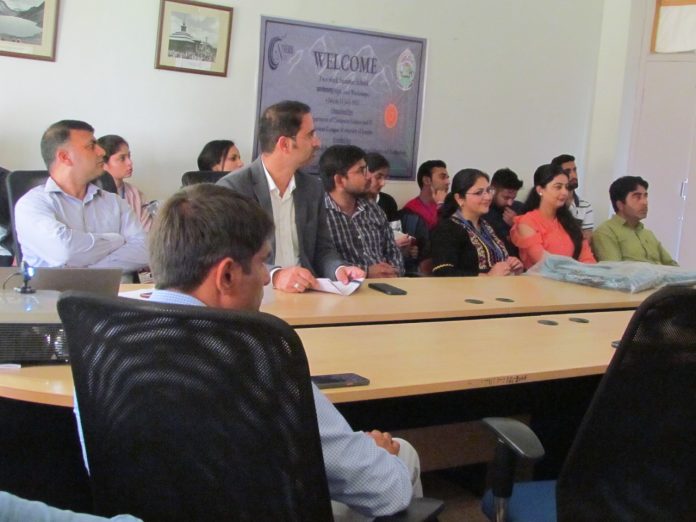 Bhaderwah, July 4 : Department of Computer Science and IT, Bhaderwah Campus, University of Jammu is organising "Four Week Summer School on Computer Vision for Live Object Detection Using Open Source Tools and Four Week Internship on Digital Image Processing and Data Modelling Tools for Healthcare/Satellite Imagery (Under the KARYASHALA & Vritika Scheme of Science and Engineering Research Board, New Delhi).
Four Week Summer School will be organized from 4 July to 15 July 2022 [Two Week] and From 4 July to 29 July 2022.
This Scheme is applicable for Faculty or Scientists working in Central institutions of higher learning and research such as IITs, IISc, IISERs, NITs, and other institutions and laboratories of eminence like CSIR, ICAR, ICMR, etc and This is first time ,Faculty from state University has got approval to run this Programme Funded by Science and Engineering Research Board (SERB), Department of Science and Technology, Government of India, under the Accelerate Vigyan Scheme.
Total of 20 Participants presently studying in PG/PhD has been selected for this Summer school and Internship and Participants from IIT Mandi, Delhi University, Jamia Islamia ,IIIT Nagpur, MRSTU,Bathinda, Lovely Professional University Phagwara, Central University, Dharmsala, Himachal, University of Jammu and its Campuses have joined and They will learn latest trends in Computer science and IT as well as Interdisciplinary research.
The Vice Chancellors of University , Prof Umesh Rai has extended best wishes to organisers and contributor of the events
Prof, Pawanesh Abrol, Chief Cuest HOD, Computer Science, University of Jammu also extended best wishes to organizer and Bhaderwah Campus and apprised the gathering about the need of such trainings.
In key note address, Registrar & Head Computer Science Central University of Jammu spoke about the latest tools and trends in sustainable development.
Prof Rahul Gupta Rector Bhaderwah Campus extended his best wishes to Dr. Ashok Sharma for organizing such a event first time in state University.
Dr. Jatinder Manhas, Head of Department delivered welcome address and apprised about the initiative of Deptt. "Dr Ashok Sharma, Assistant Professor, Department of Computer Science and IT will be resource person for this entire event along with Experts from IIT BHU,IIT Ropar, IIT Jammu, Cardiff University, UK," he added
While speaking on the occasion , Dr Ashok Sharma apprised that the project had been submitted with full guidance of Rector, Bhaderwah Campus Prof Rahul Gupta and Dr Jatinder Manhas, Head of Department.
The Faculty Members Dr Abid Sarwar , Dr Mohd Avias, Sh Neeraj Kumar, Sh Ajay ,Sh Waseem along with Dr Babloo Sharma, Sh Parvesh, Sh Yaseer Ali all have contributed towards the arrangements and conduct of the events by providing their valuable suggestions and support.
Vote of thanks was presented by Dr. Abid Sarwar who has extended thank to all participants, guest, staffs members for their cooperation the all event.