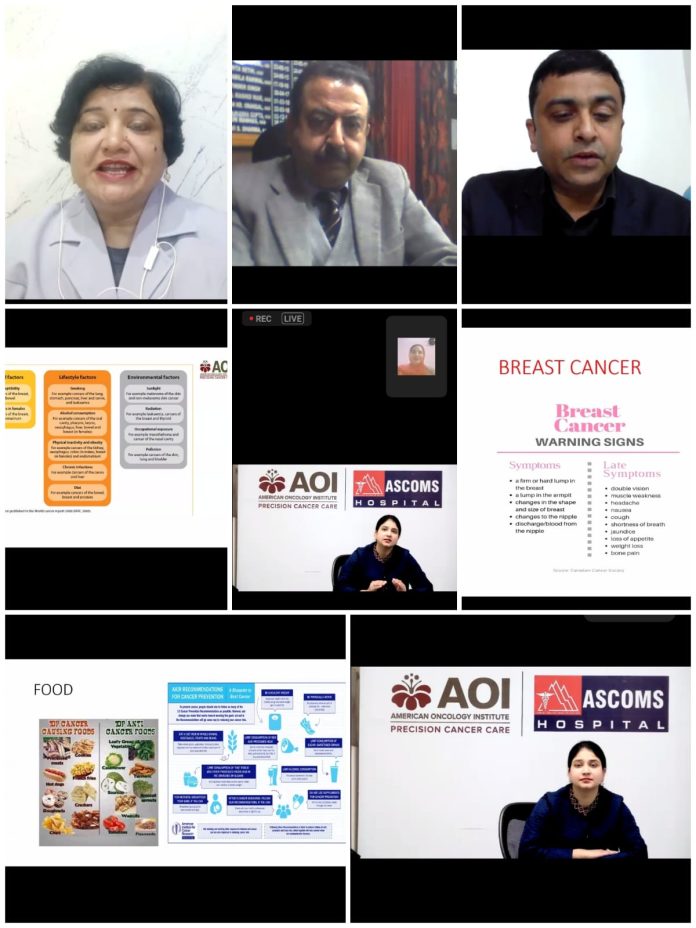 Directorate of School Education Jammu through its Counselling Cell in collaboration with American Oncology Institute organized a Mega Webinar on World Cancer Day which was attended by students, teachers, parents, HOIs, higher officials and others through zoom and Facebook Live.
Dr. Surbhi Kudyar, Associate Consultant (Breast Oncology) American Oncology Institute, Jammu and Dr. Deepak Abrol, Senior Consultant Radiation Oncology AOI were the guest speakers.
While speaking on the issue, Dr. Surbhi Kudyar highlighted the causes, risk factors for cancer, various preventive strategies including nutritional diets and healthy life style role in keeping cancer at bay. She asked to raise awareness of cancer and to encourage its prevention, detection and treatment. She also asked not to believe in prevailing myths and believe in contacting doctor at the right time.
Dr. Deepak Abrol deliberated upon Radiation Therapy and how it can be used to treat cancer by using high doses of radiation to kill cancer cells and shrink tumors. He also discussed the warning signs of cancer and emphasized on screening of oneself at regular intervals.
The queries of the participants were also satisfied by the Resource Person.
Director of School Education Jammu, Dr. Ravi Shankar Sharma (JKS) thanked American Oncology Institute for their support and ensured the resolve of directorate to organize programmes for the health and well being of all the stakeholders. He added that Cancer prevention efforts in children should focus on behaviours that will prevent the child from developing preventable cancer as an adult.
Dr. Romesh Kumar, Head Counseling Cell DSEJ said that cancer is a life style disease and by making healthy changes in our life style, one can prevent it.
The program was moderated by Dr Alka Sharma, Member counseling cell and Counselor Shanti Saroop, Ms Bindu Kumari and Mr. Nirmal Kumar helped in the smooth functioning of the event. Mr. Manbir provided the technical support.