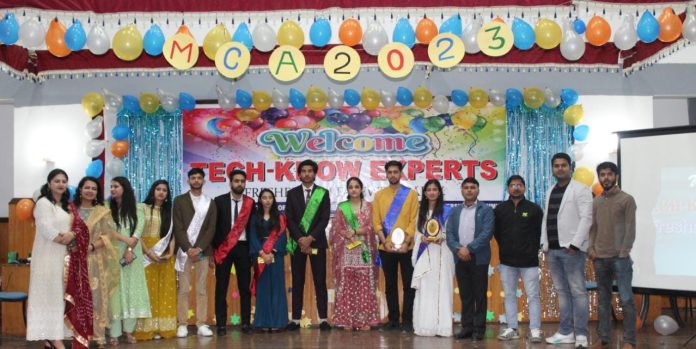 'TECH KNOW EXPERT' – Fresher cum Farewell function organized at Bhaderwah Campus
Bhaderwah May 28 : Department of ComputerScience, Bhaderwah Campus University of Jammu today Organizes Induction, Fresher cum Farewell function "TECH KNOW EXPERT" 2K23 for the Students of Bachelors of Computer Application (BCA) and Masters of Computer Sciences (MCA).
Rector, Bhaderwah Campus Prof Rahul Gupta was the chief guest of the function. In his address Prof. Gupta welcomed the freshers and assured his full support and accessibility to the students and employees of the campus 24X7.
He also blessed the outgoing students with his warm wishes and promised the due farewell at the right time.
The colourful function started with the lighting of the ceremonial lamp by the Incharge HOD MCA Dr. Jatinder Manhas, Head IME Dr Neeraj Sharma, Incharge HOD Geography, Dr. Chhering Tandup, I/C HOD MBA Dr Sunil Bhardwaj, Dr. Shayan Javed , ERO Arif Khateeb and other esteemed faculty members of the campus.
After the lightening ceremony, a flute performance was presented by the student of MCA 6th semester. Many cultural events including Group Dance, Solo Dance, Solo Singing, Skit, Ramp walk, Mimicry and Comedy performance were performed by the students BCA and MCA of the department.
An induction programme was also organized in which the new students were presented with a token of love on behalf of the department.
A farewell was also organized by the students of MCA 4th semester to the outgoing batch.
Dr Jatinder Manhas, HOD Computer Science & IT in his address appreciated the efforts put forth by the students of the BCA and MCA 4th semester in organizing and managing the event. He also welcomed the fresher and motivated them to work hard and achieve their goals in their life. He wished good luck to the outgoing batch in their future endeavours.
Speaking on the occasion, Arif Khateeb, External Relations Officer Bhaderwah Campus welcomed the new students and congratulated them for such a lovely show and said that Bhaderwah Campus always strived to give its students the best platform to showcase their talent and creativity.
He thanked Rector Bhaderwah Campus Prof Rahul Gupta for motivation and guidance to organize such events. He also greeted the newcomers and inspired them to work hard and realise their life ambitions.
He sent the departing group his best wishes for success in their future activities.
The PhD. Scholars of the department of Computer Science Ms. Priya Rani, Ms. Diksha Sambyal and Ms. Shallu kotwal .also displayed their talents and were also given gifts as a token of love by the department. All the event performances were highly appreciated by the audience.
Present on the occasion were Dr. Abid sarwar, Dr Ajay Lakhnotra, Dr Neeraj Kumar, Bablu Sharma, Yaser Ali , Parvesh Singh , Waseem Ahmad , Susheel Thakur besides faculty from other departments also attended the programme.