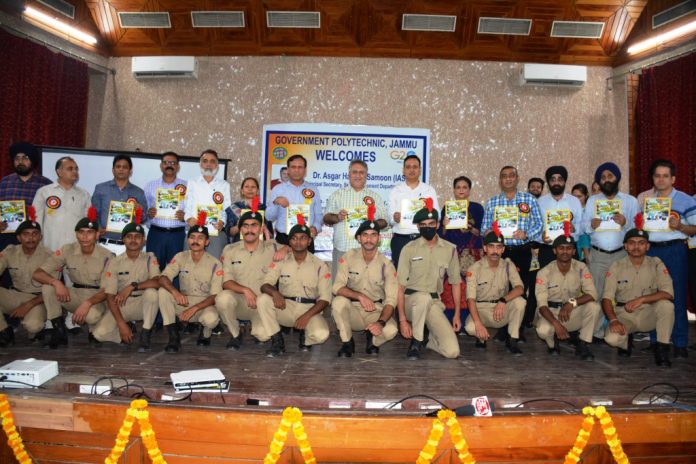 Jammu: Two days Workshop on Electric Vehicle was held at Government Polytechnic Jammu. On the concluding day Valedictory Function was organized in which Principal Secretary, Skill Development Department J&K, Dr. Asgar Hassan Samoon was the Chief Guest, while Guest of honour was Sh. Sudershan Kumar (JKAS) and Mission Director Skill Development J&K, Ms. Leena Padha. The program started with lightening of the ceremonial lamp by the dignitaries followed by Saraswati Vandana. Principal Government Polytechnic Jammu, Er. Arun Bangotra formally presented welcome address and briefed the dignitaries about the event insights. He also highlighted the various activities being conducted in Government Polytechnic Jammu and Center for Invention, Innovation, Incubation and Training (CIIIT Jammu) that together are taking the department to new heights. On the occasion Dr. Asgar Hassan Samoon along with others dignitaries distributed participations certificates of Two days' workshop on Electric Vehicle held at CIIIT, Government Polytechnic Jammu in collaboration with SMVD University Katra in which 50 faculty, staff and students of various institutes like DAV Jalandhar, HKM Haryana, SMVD University Katra, YCET Jammu and Government Polytechnic Jammu participated. The workshop was organized to provide a unique opportunity to participants about the working of Electric Vehicles, Design of Motors and Batteries and application of Power Electronics in electric Vehicles.
The new CIIIT Jammu website was also inaugurated. The website provide the details of various futuristic courses, contents, eligibility, fee structure and job opportunities in the 18 courses offered at CIIIT Jammu.
Dr. Asgar Hassan Samoon also released two books being authored by the faculty of Government Polytechnic Jammu. The book published is titled "Applied Mechanics", author Er. Arun Bangotra, Principal Government Polytechnic Jammu and other titled 'PLC and Microcontroller' author Er. PK Angral, Lecturer Electrical Engineering Dept. and Er, Ashok Verma, Lecturer Instrumentation & Control Dept.
The chief guest and Guest of honours also distributed the certificates to meritorious students and students who had undergone Three months courses at CIIIT Jammu. He also offered job placement letters to the students in the recently concluded One week-long campus placement drive in which 09 companies participated, and selected around 33 students for various departments.
While speaking on the occasion, Dr. Asgar Hassan Samoon lauded the efforts Principal Government Polytechnic Jammu and his team for achieving such a milestone in terms of imparting quality education, providing industry oriented Short-Term courses, exposing the students to various aspects of industry 4.0 and also giving they desired placement opportunities, all under one roof. He also emphasized all to value time and complete all the given projects in the stipulated time in order to achieve success to the fullest.
Director Skill Development Department, Sh. Sudershan Kumar addressed the gathering and briefed about the various aspects of Skill Development Department and the latest updates in terms of Skill add-on courses offered in various ITI's and Polytechnic's along with 03 years diploma courses.
The programme was co-ordinated by Ms. Sakshi Kapahi Lecturer I&C, Ms. Saba, Ms. Janeeta, Ms. Manu Rajput Demonstrator Arch. Assistantship, Ms. Itika Sharma, Demonstrator Electrical Engineering.
Other were present on the occasion were Er. Suket Gupta, Principal Govt. Polytechnic for Women Jammu, Ms. Neelanjana Manawati, Principal Govt. Polytechnic Samba, Er. Vivek Mahajan, Principal Govt. Polytechnic Ramban, Sh. Rashid Sheikh Principal Govt. ITI Jammu, Sh. Amandeep Singh, Supdt. Govt. Women ITI Jammu, Sh. Amanpreet Singh, Supdt. Govt. ITI Samba, Smt. Ruchi, Supdt. Govt. ITI R S Pura, Er. Inderjeet Singh Workshop Superintendent, Er. Raj Kumar HOD Mechanical Engineering, Er. Rani Devi, HOD IT Engineering, Er. Manjeet Singh HOD Electrical Engineering, Er. Manish Kumar, HOD I&C Engineering, Er. Sanjay Koul HOD Computer Engineering, faculty, staff and students of the
institute.