JAMMU: Directorate of School Education Jammu under the dynamic leadership and guidance of Ms. Anuradha Gupta (Director School Education Jammu) celebrated Gandhi Jayanti with great fervor and enthusiasm by organising various activities and administering " Swachta Pledge" to students and staff members in schools and offices, across all the 10 districts of Jammu Divison.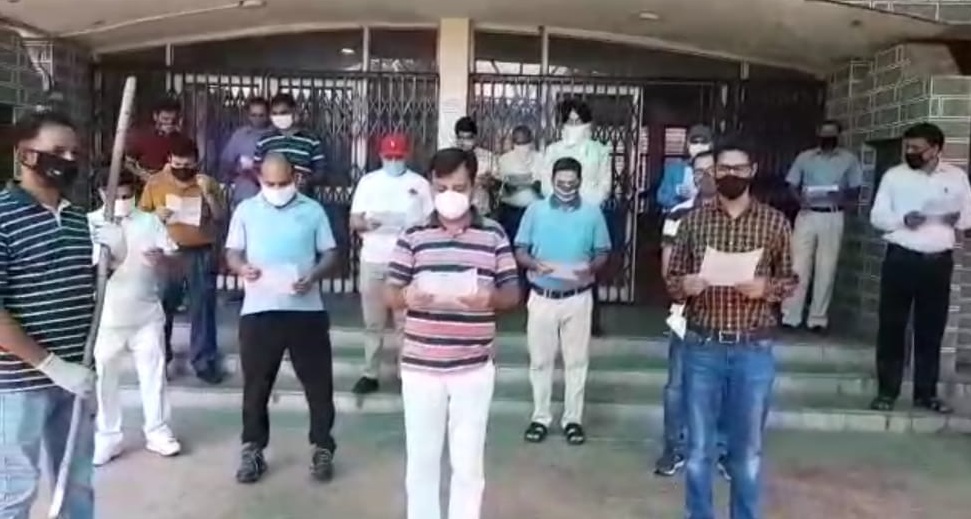 To commemorate the 151st birth anniversary of Mahatma Gandhi and to rejuvenate and cherish the ideals of the ' father of the nation', of which cleanliness was of paramount importance, Directorate of School Education Jammu organised cleanliness drives in schools and offices across the Jammu division along with sports activities like Kabadi, wresting, walkathon, yoga, spot cycling etc.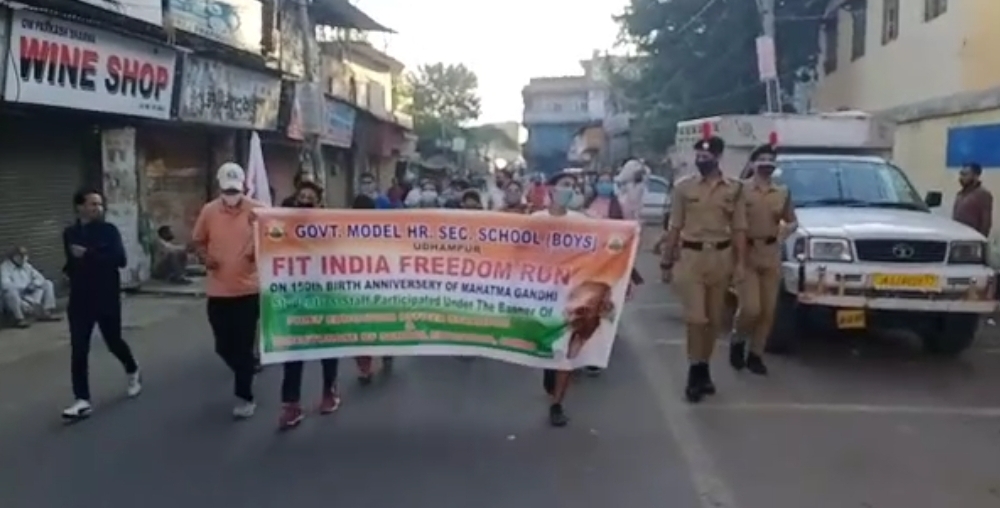 The celebratory occasion also saw the culmination of 'Fit India Movement', which started on 15th of August 2020, with the Ditectorate organising 'Fit India Freedom Run' rallies and 2 Km plogging run activities for students and staff members at district headquarters across Jammu Division, with the twin aims of ' SWASTH and SWACHTA' – staying fit while keeping the surroundings and country clean.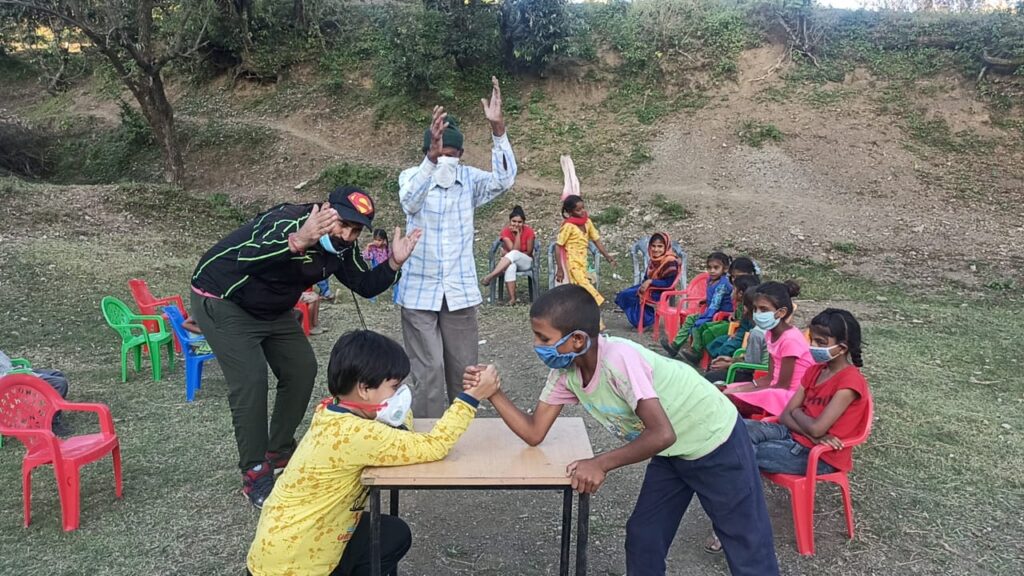 Students and staff members were also administered swachta pledge on the occasion through online as well as offline mode. Director Schools Education Jammu, Ms. Anuradha Gupta, addressing the participants termed the swachta pledge as a resolve to invigorate our own selves as well as society at large towards keeping our surroundings and environment clean. It is an undertaking towards carrying forward the message of cleanliness given by Mahtma Gandhi to us, she added.
Ms. Anuradha Gupta, while remembering Shri Lal Bahadur Shastri, who shares his birthday with Mahatma Gandhi, described him as a leader of masses who mobilized the entire country with his slogan ' Jai Jawan, Jai kisan' and uplifted the fortunes of millions of Indians by ushering in an era of self sustainence and self reliance through the twin movements of 'Green Revolution' and 'White Revolution'. She prayed to the audience to carry forward the legacy and message of the two leaders with zeal and commitment.
The ceremony organised at Directorate Head Office Jammu saw Mr. Sanjay Kumar Bhat ( PO) administering swachta pledge to the staff members, who lead the 'Shram Daan'- cleaniliess drive, conducted in and around the office premises by the staff members.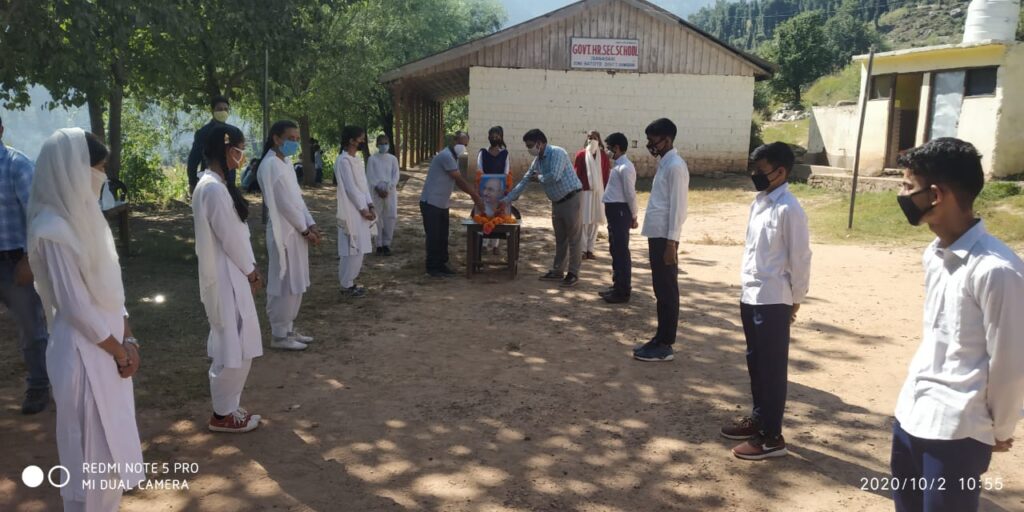 On similar lines, CEO office Jammu also organised celebratory function which included ' sarv dharma prayer' among other scheduled activities. Chief Education Officer Jammu Mr. Vijay Sharma paid rich tributes to Mahatma Gandhi as well as Lal Bahadur Shastri. On the occasion "Swachata karayakaram" was carried out in the office premises. Speaking on the occasion, Mr. Vijay Kumar highlighted Gandhijj's contribution in the freedom struggle. The unaccomplished dreams of Gandhiji's like communal harmony, removal of untouchability, sanitation and hygiene in villages, National Education, economic equality, encouragement of village industries etc , need to be accomplished and only then it will be real tribute to Bapuji, he added.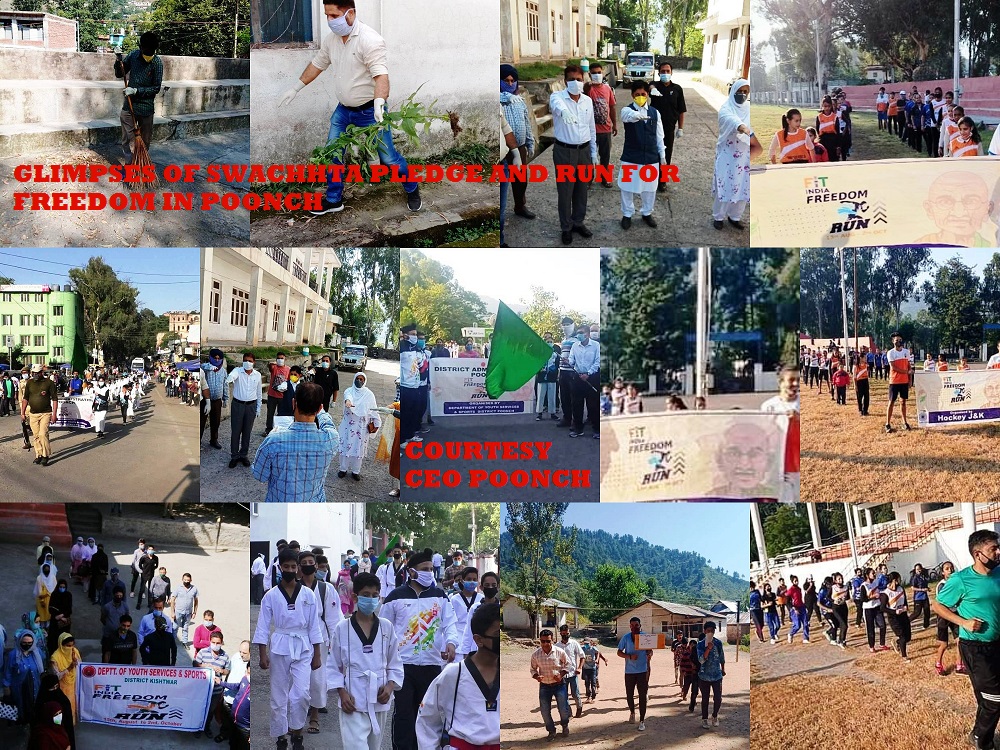 Videos and pictures of the events onganised by Chief Education officers in their respective district have been uploaded on the official facebook page and website of the Directorate for the benefit of all.
More than one lakh students, teachers, office bearers and other staff members of the Directorate of School Education Jammu participated in the celebratory functions organised by the Directorate which were co coordinated by Mr. Govind Sharma, DNO Fit India Moment.