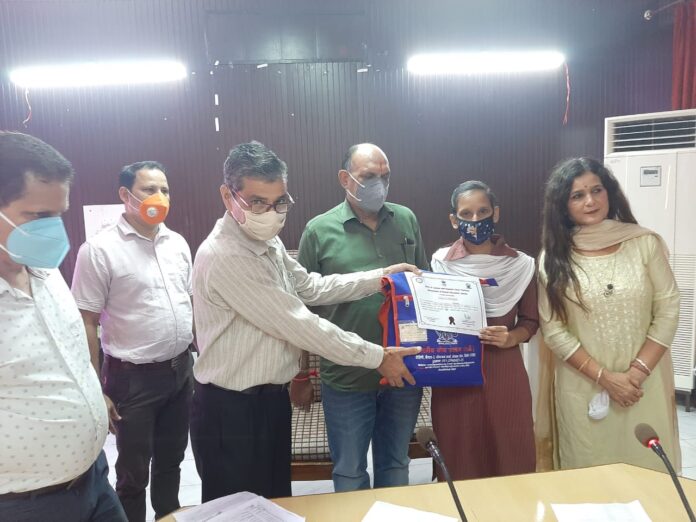 Jammu, September,30: Directorate of School Education Jammu under the aegesis of Ms. Anuradha Gupta, Director School Education Jammu, today organised a prize distribution function for the winners of the yoga competition organised across Jammu division to celebrate the first anniversary of Mission Fit India- 2020. The prize distribution ceremony was organized at the directorate head office for the students of Jammu district while separate functions were organised at the district headquarters of all the 10 districts of Jammu division by the respective Chief Education Officers. Mr. Sanjay Kumar Bhat ( PO), Mr. H S Pakhroo ( Joint Director) and Mr. Vijay Sharma ( CEO Jammu) were present at the ceremony among others.
Mr. Govind Sharma Nodal Officer Fit India Jammu Division at DSEJ, while presenting welcome address extended greetings to all the winners and participants. He divulged the details of the weeklly activities organized by the Directorate under the Fit India flagship programme in which many thousand students participated. The Directorate also organized a yoga competition for which the participants had to send their videos performing yoga asana. The Directorate received more than 4000 video entries for the competition and a panel of experts decided the winners for each district.
He apprised the chief guest, Ms. Anuradha Gupta about various activities launched to engage the learners at home, particularly related to DSEJ's
home assignments on fitness, various other fitness sessions held since 29th of August 2019 under the theme "Fitness @ Home with families" and Yoga activities like paranayama, suryanamaskar, breathing exercises etc. which were relayed to the students, parents and other stakeholders through various social media platforms.
It is pertinent to mention here that the Directorate of School Education Jammu is presently conducting a three month long yoga workshop to train teachers and students from all the 10 districts of Jammu division.
Ms. Anuradha Gupta congratulated the participants and the winners of the competition and urged the students and teachers to come forward and work diligently towards making the dream of Fit India a blessed success.